Spice World
In 2019 Studio Moross joined Creative Director Lee Lodge as part of a core creative team to manage the art direction and design across the screens and stage for the Spice Girls UK and Ireland tour. Since at the time, the Spice Girls had not been on stage in seven years, this tour was significant. It was the most extensive and highest-profile design job the studio had undertaken. Kate kept the collaboration a secret for a while, but working with the Spice Girls had special meaning to Kate specifically. Growing up, Kate was a huge fan, and the band had an influential impact on their life. Kate even talked about it in their book Make Your Own Luck: A DIY Attitude to Graphic Design & Illustration.
Studio Moross designed all the screen visuals and the merchandise. Since the band was being reunited, the team wanted to use the Spice Girls' power of nostalgia while also representing their work in a modern context. Studio Moross created a new typeface based on past iterations of the Spice Girls logo. They molded the type to reference early uses to capture the nineties' feel while staying modern. The show wanted to be accepting, which is very in line with Studio Moross's ideals. Kate said in a behind-the-scenes interview, "The show's really inclusive, and it's making sure that we're celebrating every moment in Spice Girls history but also celebrating anyone who's in the room with us." The show ended up being an amazing experience and truly showed Kate's and many others' skills.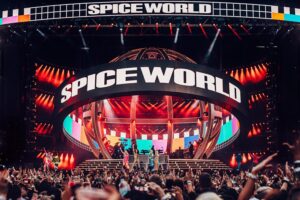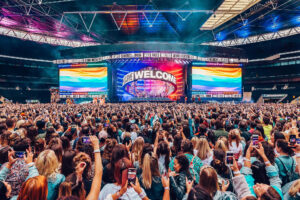 Bibliography
"'That Sweet Spot between Nostalgia and Now': Kate Moross on Designing the Spice Girls Tour Visuals." It's Nice That, www.itsnicethat.com/articles/kate-moross-lee-lodge-jason-sherwood-tim-routledge-spice-girls-tour-graphic-design-040619.
Working, Working Not. "WNW MAGAZINE – Branding the 2019 Spice Girls Tour with Studio Moross." Working Not Working Magazine, Working Not Working Magazine, 21 Oct. 2019, magazine.workingnotworking.com/magazine/2019/5/28/spice-girls-kate-moross.
Photos
"Spice World 2019 Art Direction." Kate Moross, www.katemoross.com/Spice-World-2019-Art-Direction.