Eddie Opara
Eddie Opara is an impressive figure in the graphic design space, both for his work and his methods for approaching design. Opara is a British man born in the city of Wandsworth, London in 1972. He attended Yale University and the London College of Printing where he majored in graphic design and received his Masters in Fine Arts in 1997. This degree was a sign for Opara's work-filled future as, from this point on, he was constantly working in studios and building his name as a designer.
Opara decided to move to New York to work for a company called "Imaginary Forces" until he was offered a position at the design studio "2×4". They hired him, and he held the title of art director until he left to found his own studio in 2005. Based in New York, the studio was called "The Map Office" and it quickly made a name for itself in the quality of their work. They gained many clients and business relationships over time including Princeton Architectural Press and St. Regis Hotels. The studio focused on branding, packaging, publication, and more. Opara's group also developed MiG, a content management software that "…enabled his clients to manage and publish their own content online" ("Eddie Opara", Famous Graphic Designers). In October of 2010, Opara became a partner of Pentagram and brought his best team to work with the New York branch of the company. Opara continues to make strides in his design career with Pentagram and has accumulated quite a bit of fame already from his efforts.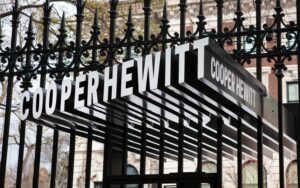 Eddie Opara has won multiple awards from the American Institute of Graphic Arts, "…a Gold Cube from the Art Directors Club and honors from D&AD, the Society for the Experiential Graphic Design (SEGD)", and these are just a few examples of the art community recognizing his work ("Eddie Opara-New York", Pentagram). He has collaborated with many different companies such as the Cooper Hewitt Museum, the Smithsonian Design Museum, LuluLemon, New York University, and Samsung. He appears at the School of Art at Yale often to be a guest senior critic for the students. According to "Famous Graphic Designers", Opara is also a professor at the University of the Arts where he teaches narrative design and his work revolves around "technology, design and strategy", his three core values ("Eddie Opara"). Opara has always had a certain mindset when it comes to his work and his background and life framed this outlook.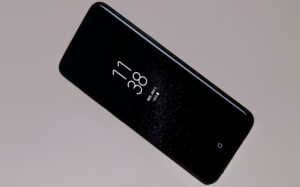 Growing up in England is what Eddie claims guided his approach to design and working in the U.S. helped him to grow his brand skills. According to Dian Holton, a writer for the AIGA DC website, Opara was inspired by his family in different ways. His mother inspired him with her "Nigerian head wraps" and a quote from his father, " 'Design is spiritual' ", is a concept he follows with his work (Holton). Interestingly, Opara also had a love of architecture and it would have been his second career choice if he were not a graphic designer. He brought all these traits of himself to his work, and he went about designing in a way that was different from the beaten path. In his TedTalk, "Off-road Design", Opara encourages designers to "take that off-road approach…"; to move away from the normal guidelines and solve the problem in a unique and satisfying way (Opara, Ted: "Off-Road Design", 9:04). He claims that, "In graphic design, we don't only read that content, we actually believe that content." (Opara, Ted: "Off-Road Design", 8:36). 
Eddie Opara is an efficient and highly motivated individual who continues to inspire other designers and aspiring black artists such as myself with his work ethic and unique approaches to design. He carved out his own way in the design space and found success going "off-road", and taking strides that lead both him and his clients to satisfaction.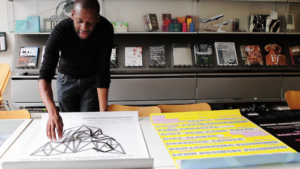 Bibliography
"Eddie Opara." Famous Graphic Designers, www.famousgraphicdesigners.org/eddie-opara, Accessed 13 Feb. 2021.
"Eddie Opara- New York." Pentagram, www.pentagram.com/about/eddie-opara, Accessed 13 Feb. 2021.
Holton, Dian. "21 Things You Don't Know About Eddie Opara." AIGA DC, 5 Jan. 2016, dc.aiga.org/january-15-eddie-opara-of-pentagram/, Accessed 13 Feb. 2021.
Opara, Eddie. "Off-Road Design: Eddie Opara at TEDxYale." Youtube, uploaded by TEDx Talks, 2 June 2013, www.youtube.com/watch?v=0M7-y_5tXK0, Accessed 18 Feb. 2021.
Featured Image from: "Eddie Opara." Creative Blog: Art and Design Inspiration, 26 May 2011, www.creativebloq.com/search?searchTerm=Eddie+Opara, Accessed 13 Feb. 2021.
Other images from:
"Eddie Opara." daOMA, 2020, www.daoma.org/events/eddie-opara/, Accessed 5 April 2021.
"Featured Designer: Eddie Opara." Aratuntun, 21 Jan. 2014, www.aratuntun.wordpress.com/2014/01/21/featured-designer-eddie-opara/, Accessed 5 April 2021.
"Samsung Galaxy." Pentagram, www.pentagram.com/work/samsung-galaxy, Accessed 6 March 2021.