Hiroshima-Nagasaki 50
The 1995 screenprint on paper features a white background with a black "NO." The n and o are distinctly different fonts, with the n taking side stage off to the lower left of the dominating o. The edges of the n resemble a sans serif font while the o has more qualities of a serif font. The n is also unique because of its placement just off of the page at the lower left where it is partially cropped. 
The counter of the o forms a hand at the top where the fist grabs the body of the letter in a firm grip. The subtle background gradient behind the fist gives depth to the poster where the fingers distinguish themselves from the letter. Long a symbol of protest, the raised fist in Hiroshima-Nagasaki 50 represents solidarity with those affected and opposes war. In this poster Fukuda remembers the past and presents a warning for the future, commanding that the viewer remember and learn from the past.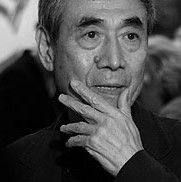 Hiroshima-Nagasaki 50 reflects Fukuda's opposition and outrage at the bombings of Japanese cities Hiroshima and Nagasaki in August of 1945. Living only a few hours away in Tokyo, Fukuda would have been thirteen at the time. Deployed supposedly to secure Japan's surrender, these bombings directly led to the Cold War which lasted until the 90s. Growing up in the shadow of the Cold War, it's no surprise that the Japanese artist's work frequently centers on the morbidity of war and promotes peace. 
Heller, S. (2009, January 19). Shigeo Fukuda, Graphic Designer, Dies at 76. The New York Times: Art & Design. https://www.nytimes.com/2009/01/20/arts/design/20fukuda.html?_r=1 
History.com. (2010, September 1). This Day in History: American bomber drops atomic bomb on Hiroshima. HISTORY. https://www.history.com/this-day-in-history/american-bomber-drops-atomic-bomb-on-hiroshima 
Stout, J. (2020, July 31). The history of the raised fist, a global symbol of fighting oppression. National Geographic. https://www.nationalgeographic.com/history/article/history-of-raised-fist-global-symbol-fighting-oppression 
Penney, M. (2017, March 23). Designer Focus: Shigeo Fukuda. Notes On Design Features. https://www.sessions.edu/notes-on-design/designer-focus-shigeo-fukuda/ 
Images in order of appearance: 
Reagents of the University of Michigan. (n.d.). HIROSHIMA-NAGASAKI 50 #1. Umma Exchange. https://exchange.umma.umich.edu/resources/29212/view 
Poster Art Gallery. (n.d.). Hommage a Fukuda. Human Paradise. http://www.humanparadise.com/fukuda_web/introduce.html