Breaking Bad (2008)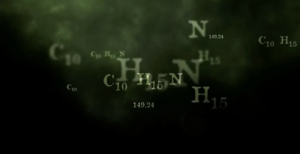 Breaking Bad is a TV show that aired from 2008 to 2013 and was created by Vince Gilligan. The opening sequence successfully uses design elements that give viewers context – the show's time period, main themes, and ideas. Typography, sound, color, and the show's title itself convey the ideas behind the show's plot.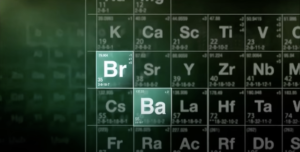 The title sequence opens with a dark green colored screen with white chemical compound formulas floating around. The formulas almost look like they were written with chalk. They are flowing away from the screen, toward the back, almost like the camera (or, your eyes) is backing away. Two periodic tables then appear. They show all of the elements and their atomic number, atomic weights, and respective charges. One highlights the element bromine (Br) and the other highlights barium (Ba). The elements are on opposite ends of the table, so two tables were used to make the transition more cohesive. Bromine and barium's atomic symbols come together to form "(Br)eaking (Ba)d". The words are blown away by a neon green smoke, like chalk dusting off of a chalkboard. Then, chromium's atomic symbol is used to display the show's (Cr)eator, Vince Gilligan. The music is a combination of drums and guitar and has a somewhat ominous sound.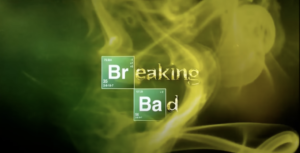 Without knowing the plot of the show, viewers can assume chemistry is one of the main themes. The white chemical formulas on the green background depict chalk on a chalkboard and seem to reference the fact that Walter White (the main character) is a high school chemistry teacher. The phrase "break bad" means to break the law, defy authority, etc. The ominous feel of the soundtrack implies that the show covers a dark topic and when viewers put all of this information together, they can infer that the show is about a chemistry teacher who gets into some kind of trouble.