Navigating Life
With the way that we rely so heavily on our smartphones and computers in this day and age, to analyze an essential tool provided by such devices seems fitting. There are several applications to help navigate roads and reach destinations available to us, and different people prefer different apps. While I tend to prefer Google maps, I wanted to take a closer look at Apple Maps as a way to get where I want to go.
Apple maps is only available to Apple devices, and is designed according to the Apple Aesthetic. My phone is set to dark mode, so when I open the app the background is all gray and black. In the corner, it includes the temperature and weather status. The map is very simple, with roads as lines, bodies of water filled by blue, and highway labels marking major highways. You can also add "favorites" to easily get to places you travel often, such as home or work. There is the option to browse food, gas stations, stores, and other genres of places, but the search bar is right in the middle of the screen if you know exactly where you want to go.
For my trip, I decided to use Apple maps to get to my family's home in High Point from Raleigh, which is roughly a 1.5 hour trip. When I typed in the address, the app gave me a quickest option, and then two slower ones. I decided to take the slowest one because I figured it would also be the most complicated and I wanted to see how the app would direct me. Overall, the trip was good. Because it is an Apple app, it synced up with my apple watch and buzzed every time I had a turn coming up. It also prepared me for these turns well in advance. I think that It worked very well, and it definitely got me where I was trying to go.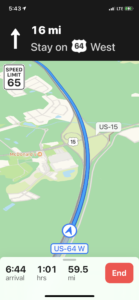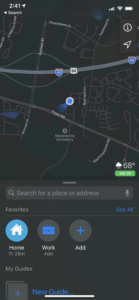 In the future, I would want to see how adding stops would work, or looking for specific restaurants along the way. I couldn't seem to figure that part out, so I think that accessibility could be improved. However, it is a very sleek and smart app.