The Hive Minecraft Server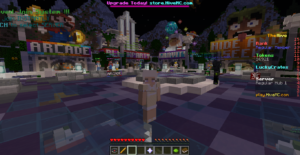 The space I chose for this assignment is "The Hive" multiplayer Minecraft server. Minecraft is a single-player or multiplayer game where the player can explore and live in a new world on their own or with other people. However, online multiplayer servers can change the game's objective. This multiplayer server has many games for online players to play together in. The overall objective of "The Hive" is to play minigames with and interact with other online players for fun and entertainment.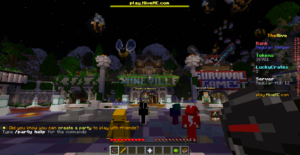 When the player first enters "The Hive", they are met with a colorful, atmospheric lobby with many fellow players hanging around in it. Immediately, they can see two minigames in buildings directly in front of them, those two being "Mineville" and "Survival Games". To join the game, the character can either click on the NPC (non-player character) with the name of the game above their head or enter the buildings with the games' name on them and click a sign to join. An easy way to join any game on this server is to select the compass in the inventory and right-click it. This brings up the "The Hive Games" menu, which allows the player to easily click on whatever game they want to play and instantly be put into the game. This was not originally part of the server, and before its addition, the players had to enter the building with the game they wanted to play, and manually click the sign to join the game. This addition to the game allows for ease of access to the minigames for the player.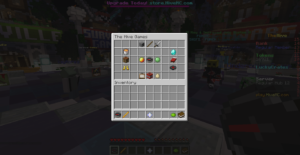 Overall, it seems that "The Hive" is a well-designed and user-friendly Minecraft server. Its colorful design and simple layout allows players to easily navigate it and get to the games they want to play. The only thing I would change is the day/night cycle in the server. Minecraft normally has a day and night cycle that lasts about 20 minutes in total. However, this server makes it so the day/night cycle is always set to night. I think that this makes the server seem too dark and I feel that it would be better if it was always set to day instead. The brightness would also help the server seem even more welcoming to newcomers.
The server address for "The Hive" is play.hivemc.com! Feel free to join if you want to play some fun minigames with others!