Waze Navigation System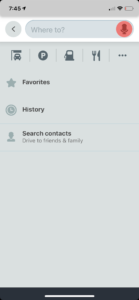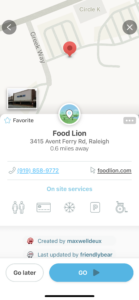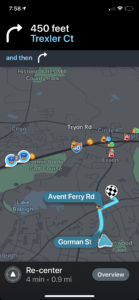 I decided to review Waze, the navigation system application for mobile phones. Relative to the normal navigation system that I use, Apple Maps, it was very difficult to first navigate through Waze. There was an excessive amount of buttons and extra clicks I had to use to get to the directions that I wanted, but once it was pulled up, I was able to figure it out quite easily. 
I was able to find where I want to go and did not lose my way at all. I did have some doubts about the direction I was headed because it was different than what my usual app, Apple Maps, told me. This is because Waze supposedly gives you the fastest possible route. 
A design aspect that I like was my speed in the bottom left corner, and the speed limit displayed above it. 
While I was driving, the app kept interrupting the directions whenever an accident was approaching, or any other distraction was approaching, which honestly distracted me while I was driving. Also, on the map, another distraction was all the other drivers and users on the map. 
If I did lose my way, the app would immediately reroute and fix my mistake. 
I prefer the Apple Maps because of its simple design, and I would prefer a simple design while I am driving so I am not distracted. If I were to fix the design of Waze, I would lose all the steps to get to the directions. I would also make it an option to get rid of seeing the other users on the map. It would confuse me, and overall distract me from seeing the directions.
Overall, the design of the app was well done, but there were too many distractions on this navigation system that can be bad if you are driving.