Spatial Environment at the Chinese Lantern Festival
I visited the North Carolina Chinese Lantern Festival in Cary, North Carolina, which is a very popular attraction available to visit from around Thanksgiving to January. You enter underneath a large LED display and can find your way through decorated paths, surrounded by lighted lanterns of difference shapes and sizes. The favored time to visit is at night because of the bright colors contrasting against a blank, black sky, which emphasizes the excellence of these beautiful works. It is obvious that the designers of this festival are trying to illuminate and honor Chinese designs and traditions without overwhelming their visitors. Even though this is a light festival, the placement of each object is crucial in keeping the visitors interested and entertained without overloading visual senses to where it is not enjoyable. Within the grounds of the festival, there are large displays with intricate designs. My favorite was a large Fenghuang, a mythical bird, that lit up the dark lake.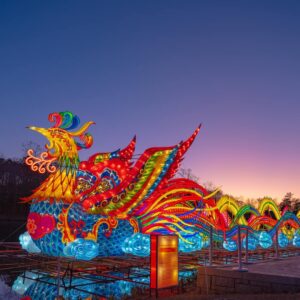 It is important for the designers to stay true to Chinese traditions while entertaining a predominately white, American crowd. There are many Chinese cultural performances as well. Dancers and performers are dressed in bright colors on lit-up stages to honor Chinese history and traditions while providing a form of physical entertainment for the visitors. There are also small markets where you can walk through and buy Chinese items to take home as souvenirs. You can see many people having their pictures taken with any lantern in the festival as well as a few proposals under the romantic lights.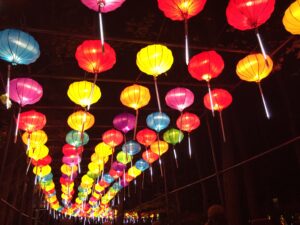 The ambiance of this festival is romantic as well as entertaining and is appropriate and entertaining for all ages as well. Whether you would want to come for a romantic date with your partner or to have a fun adventure out with friends or family around the holidays, this is an amazing place to go. It is difficult to find somewhere that is inclusive of all ages or group dynamics, but the designers did a fantastic job navigating the more crowded areas and leaving the romantic areas separate and quieter by using bushes and tighter trails. They really allow you to emerge yourself into Chinese culture and traditions in a light-hearted and amusing way while keeping the crowds organized. This is not a subtle nod to Chinese culture, it is designed in a way to amaze American visitors with the beauty of foreign traditions without having to travel far. (This was a pre-COVID-19 visit)