Fresh Market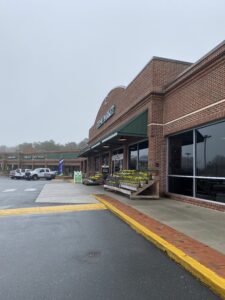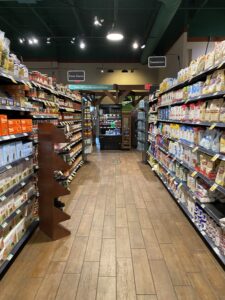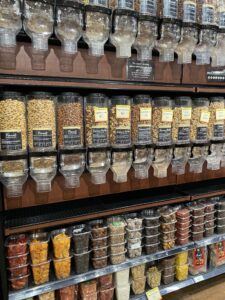 The experience of shopping in the Fresh Market is exactly like you would expect. It's a small grocery store in Chapel Hill (there's one in Cameron Village, too) founded in Greensboro. Several features in the design and layout of the store create a more intimate grocery shopping experience than other stores like Food Lion or Harris Teeter.
Outside of the storefront, there are fresh flowers and plants for sale. The red brick exterior of the building is inviting and homey. As you walk in the automatic doors, small chalkboards with specials and sales are sitting by the grocery carts. The lighting is dimmer and less harsh than the bright fluorescent lights in other stores. I felt warm and relaxing while shopping on the cold rainy day. The dark green paint on the tall ceilings made the store feel smaller and cozy.
The produce section had stands and walls of shelves for fresh fruit and vegetables. Because of the way the shelves and stands were laid out, a shopper is forced to pass by nearly every item for sale to get to the next section of the store. Some shoppers with a specific list might be bothered by that, but more leisurely shoppers probably enjoy it (like me). Like most grocery stores, produce is the first section most shoppers go through, then boxed/shelf items, and then frozen and refrigerated items.
The pergolas above the cash registers give the whole store a farmer's market feel. It feels outdoors-y, and that feeling is often associated with fresh food. I enjoyed shopping because it didn't feel sterile, and I wasn't surrounded by processed foods.  Also, because this location is the only one in Chapel Hill, it felt like a small community. Between the fresh produce, fresh ground coffee, and fresh meat, there's no question why this place is called the Fresh Market.