Google Maps
The social and working world today is heavily reliant on smartphone usage. This includes finding our way to unfamiliar places using navigation apps. There are several different navigation apps for smart phones, however none are visually appealing and user friendly as Google Maps. Google Maps design style can be described as simplistic and simultaneously detailed enough, which plays to the advantage of it's user friendliness. The simple design makes following the directions very easy, as too many colors or intricate designs patterns would be too distracting to follow the navigation arrow. The details Google Maps provides include the names of obscure roads, putting the location pin on the exact location of the place being navigating to, and ability to move the position of the camera frame so the user can follow the navigation in way that makes sense to them. The typeface that Google Maps and the majority of all of Google's apps is Roboto, which a simple and easy to read font.
The first image shows inputting where you would like to go. The user can input either the name of the place or the address. The menu will produce a list of locations and you select the one you would like to go to. Today I would like to see how far is the closest Cup a Joe is from Hunt Library on Centennial campus.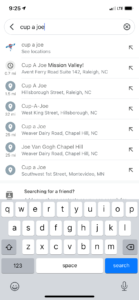 After clicking my chosen location, Google Maps shows the where the location is pinned on a map in red. It also identifies other important landmarks in the area such as roads and other businesses to confirm the location you have chosen. It conveniently tells you the hours, driving distance and time, and what services are available. It appears Cup a Joe is only available for take out.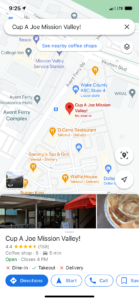 After pressing directions, the app goes into a wide screen to show a preivew of your complete route. What makes the app easy to follow is the surrounding landscape has gray tones and roads not in the route the user is taking are coded as white. The route the user will take is highlight blue. Color variations in the route such as yellow and red indicate there may be some traffic or delays. The red pin indicates the location of the destination.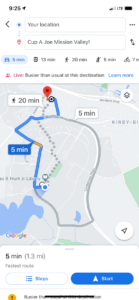 After pressing start it begins the route. The angle lets you follow the route in the direction you are moving and this can be changed. Similar to the route preview, the route and other important notifications are colorcoded.