Navigating Trunk Show
For my assignment I decided to look at a physical spatial environment. The physical spatial environment I chose was the antique store, "Trunk Show" in Raleigh, NC. The front of the shop puts out a very "retro" vibe. The type writer font and color choices of burnt orange, teal, red, pink, and black and white seem like very distinct choices to invite in a specific type of customer: the young, thrifty, vintage-wearing 20-year-old.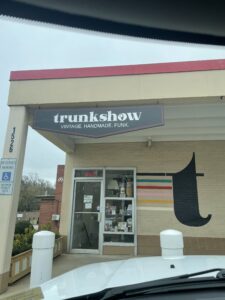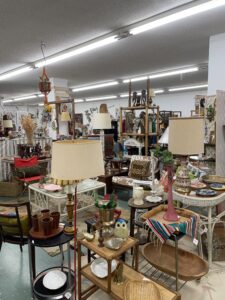 When you first enter the space, you walk down a long flight of stairs and enter the shop. This experience really makes it feel like you're going into your grandparents basement. They had the radio playing around the store with old hits from the '80s like Madonna. The vibe they seem to be going for is very old school, vintage and antique. From all of the old items they sell in there, it smelled a bit stuffy and a bit like cigarettes. I also noticed that the lighting was very bright and artificial. It reminded me of being in a school classroom. 
It feels like they decided to convey their vintage 'vibe' by including very sporadic and quirky decor all over the walls. The store is very large and a bit confusing to navigate, but you figure it out pretty quick. As shown in the photo below, this was one of my favorite doors that they had decorated in little clocks and pieces of artwork. This door really embodies the way the store arranges their objects. There doesn't seem to be much organization to the placement of the store, other than them being separated by different vendors.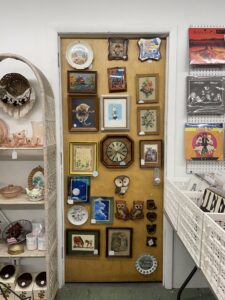 If I could change anything, I would definitely rearrange the floor so that it feels more cohesive and easier to navigate. I also would tone down the lighting and give it a more warm and natural hue that is easier on the eyes. To help with the smell, I would suggest lighting a candle at the front of the store to help with warm lighting and also give a more inviting and warmer smell. Lastly, I would switch the music from the radio to a Spotify playlist. Hearing the talk show at some points wasn't really pleasant and I think a nice playlist would help with this.