Navigating Space: North Carolina Art Museum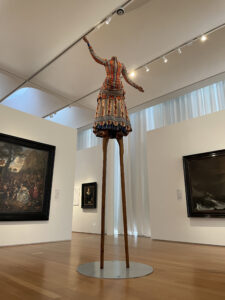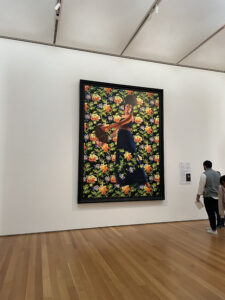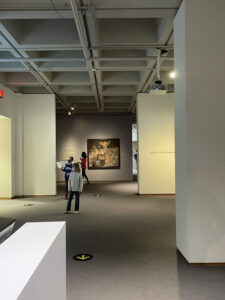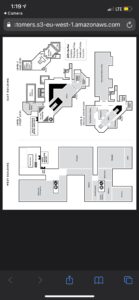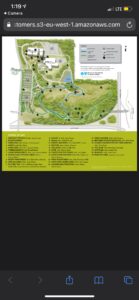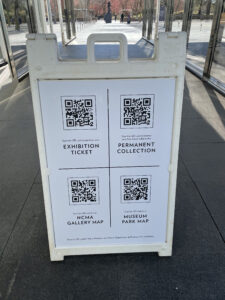 I went on a date to the art museum. While my boyfriend and I  were there we took a look at the map directory. They had a board at the entrance that had codes that you could scan to get a virtual map of the inside and outside of the museum. If you walk outside there are many sculptures while walking the trails. The virtual maps listed out the names of the sculptures that you will find on the varied paths that you can take.
The art museum is the type of place that you can walk at your own pace and take in the sites without having to feel like you are being rushed. The museum is a pretty open concept, so the map is fairly simplistic but could be helpful for first-time guests who have never been to the museum before. I find that when I go to the art museum, wandering around without knowing where to go is a lot more fun.
The lighting in the museum is pretty bright as a way for the artwork to be displayed and viewed easily. The bright lighting helps the viewer see the details of the art. In other areas in the museum, the lighting wasn't brightly lit.
Instead, the area would only have a couple of overhead lights that made the area dim. This dim lighting made it so that the display lights that hit some of the art would emphasize the texture and create shadows on itself creating even more depth. Nearly all the walls of the museum are a blank white color as a way to keep the focus on the artwork that is hanging on the walls. The arrangement of the works on the walls is usually organized by similar time-periods. This time instead of the art being organized by the same time-period the art was arranged in a way that reflected similar subjects and themes.