IKEA Edition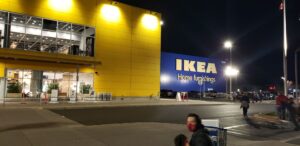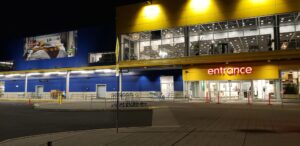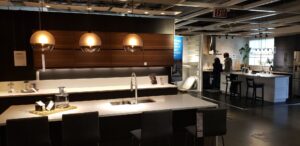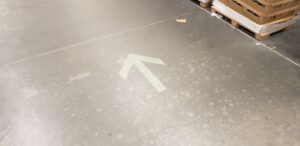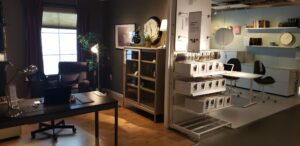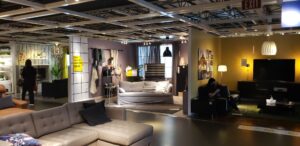 This weekend, my friends and I took a spontaneous road trip to the IKEA in Charlotte. Wellness day gave us a much needed day, and we all needed to find some furniture for our apartments anyway. I have never been to an IKEA before, and all I knew of the store is hearsay. Needless to say I was incredibly excited to visit for the first time and I could not think of a better topic for my assignment on navigating space!
From the moment you pull into the parking lot, you are immediately drawn to the building. Eye-catching isn't a good enough way to describe it, an IKEA building may look out of place, but it's not at all hard to look at. It's use of primary colors is uncommon in brick and mortar locations, something I've only seen elsewhere by Best Buy's use of blue and yellow; IKEA uses all three, and it's use of color-blocking keeps it from looking tacky. It feels like a timeless design, much like their most popular products.
Once inside, you can immediately sense the scale of the building. The showrooms that you first walk into may feel like a maze, while still guiding you through each meticulously designed display. Every room feels like a mini exhibition, a museum exhibit curated by one of the hundreds of designers who are tasked with furnishing the rooms, and yet in the whole building no two rooms feel alike. Every room has a mood, and every item in the room is carefully chosen to help influence this "vibe". Wooden desks, leather recliners, and bookshelves lined with reference material and encyclopedias contrast with the lighter tones of board games, tablets, and playful designs often found in modern seating.
For guidance between showrooms, there are arrows beamed from the fixtures above. The downstairs portion of IKEA starts snaking between aisles so these arrows are helpful to find the exit once you've already spent hours in the store. The size of the store is actually incredible once you realized that all of the showrooms are just contained in half of the store.
If you've never been I recommend going at least once and don't forget to try the Swedish Meatballs.