NCSU On Campus App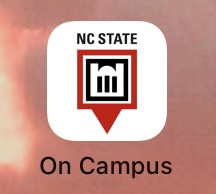 The NC State On Campus App is an app used by NC State students to navigate campus efficiently, locate dining halls and other campus buildings, and find bus routes for the Wolfline in and around Raleigh. Using this app is fairly convenient for students, as it provides multiple services under a single app. I primarily use this app to locate specific buildings on campus that I have never been to. However, the app has its drawbacks. The actual map is a bit hidden on the homepage. Rather than being located under the "My Campus" tab, the icon that takes users to the map is very small and almost hidden in the upper right corner of the screen. There have been multiple times where I have gone into the app frantically trying to find a quick route to my destination only to not be able to locate the map.
Once in the app, the names of the buildings on campus become visible and can also be located by the user under a search bar. However, when the user zooms out, some of the building names disappear. Also, there have been times where the routes I have been taken on have been mildly concerning. Sometimes, the app would take me through parking lots on secluded parts of campus to make the commute faster, and this would make me question where I was. However, I have always made it to my destination early using this app. The On Campus app is popular for leading students on more time-efficient routes to their locations on foot than Google Maps. Last semester, I tried using the Apple Maps app on my phone to walk to the Brickyard, but it took me to the wrong location! In contrast, when I used the On Campus app, I was directed to the correct location with five minutes to spare.
When finding bus routes, the user can locate the Wolfline bus schedule under the "Campus Life" tab. The app shows the arrival and departure times of buses around campus. However, when using this portion of the app, I noticed that it did not provide the precise location of the bus stops–only the names of the buildings. To improve this system, I would suggest combining the navigation system with the transportation system. This would allow bus travelers to search up the location of their desired buses without having to exit out of the Wolfline window and enter the navigation section of the app. I would also feature the navigation icon in a more prominent position on the app's home screen to make it more accessible.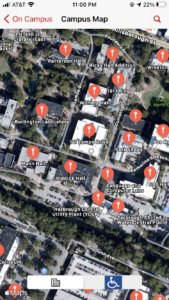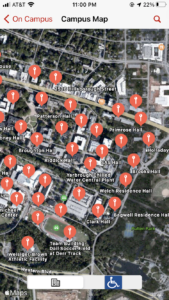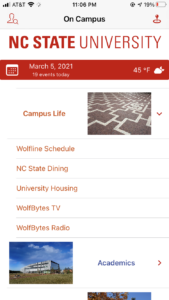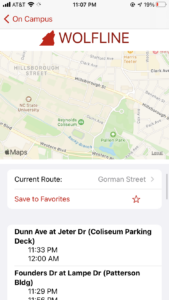 Because this app plays such an important role in the day-to-day lives of on-campus students, it is important that its features be user-friendly and easy to navigate.