Henry Van De Velde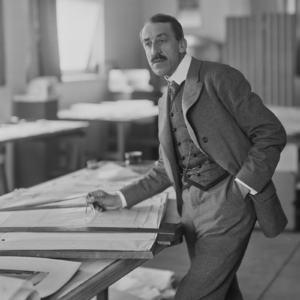 Henry Van de Velde was a famous architect born in 1863 in Antwerp and was the son of an apothecary. Similar to his father, Henry was knowledgeable, hardworking, and adaptable. Always interested in the structure and design of objects from an artistic standpoint, Henry began his career at the Royal Academy of Fine Arts Antwerp as a fine arts painter (Priska Schmuckle Von Minckwitz). After graduating, Henry was so gifted at his craft, he joined a group of artists called Les XX in Brussels. A select group of Belgian painters, designers, and sculptors, formed in 1883 by Octave Maus, whose sole purpose was to display their art. A group so selective and gifted with past invitations given to Camille Pissarro, Claude Monet, Georges Seurat, Paul Gauguin, Paul Cézanne, and Vincent van Gogh (Yourdictonary). Henry Van de Velde gained respect within the group and became the spokesperson with the publication of Déblaiement d'art (1894). 
As Henry Van De Velde began to grow in his own artistic style, he began to study Willaim Morris's works. Highly influenced by the ideals of simplicity, utility, and beauty that shaped the Arts and Crafts movement, Henry Van de Velde soon found his true calling, architecture and furniture design. He went on to create famous structures such as Bloemenwerf and the library at the University of Ghent, despite never having studied architecture. He gained new aspirations after displaying his furniture L'Art Nouveau in Paris and became an international sensation. After becoming a world-renowned designer, Henry Van de Velde created one of his most famous creations in 1905 the Bauhaus. Hired by Walter Gropius, Henry van de Velde is primarily known for his design of the Weimar (predecessor to the Bauhaus), an establishment known for its artistic impact on design combined with mass manufacturing, and became the Director of the Bauhaus until World War One (Harald Sack).
  As well as designing one of the most famous art schools in history, Henry Van de Velde is commonly dubbed as one of the Art Nouveau style creators, an art style that flourished from 1890 to 1910 and is known for its long curved lines and naturalistic shapes. When designing his pieces in Art Nouveau, Henry's purpose was to separate itself from the "imitative historicism that dominated much of 19th-century art and design," (Harald Sack), which led to social and economic changes in design (Britannica). By being an important figure in establishing the Art Nouveau style, Henry Van de Velde impacted and shaped famous designers such as "French architect Hector Guimard, another important figure; the American glassmaker Louis Comfort Tiffany, and Czechoslovakian graphic designer-artist Alphonse Mucha" (Britannica). In 1936 he retired but still took part in two world exhibitions, the World Exhibition in Paris in 1937 and the 1939 New York World's Fair. Van de Velde died in 1957 at the age of 95 in a hospital in Zurich after contracting an unspecified illness. His ashes were buried beside his wife's grave in the cemetery of Tervuren near Brussels(Harald Sack). As if foreshadowing his death Henry had already designed his gravestone by 1943 two years before he actually died. So why is Henry Van de Velde so important? Simply put, by creating the art nouveau style and designing the Bauhaus, he not only changed architecture but design itself for generations to come.
Resources
Henry Van de Velde. (n.d.). Retrieved February 09, 2021, from https://biography.yourdictionary.com/henry-van-de-velde
Minckwitz, P. (2019, December 09). The little-known story of henry van de velde, a founder of modernism. Retrieved February 09, 2021, from https://www.metropolismag.com/architecture/henry-van-de-velde/
Sack, H. (2020, April 04). Living as a work of art – henry van de velde and art nouveau. Retrieved February 09, 2021, from http://scihi.org/henry-van-de-velde/
Image Resource
Silver ship witnesses – by geography – marinelives. (n.d.). Retrieved February 24, 2021, from http://marinelives.org/wiki/Silver_Ship_Witnesses_-_by_Geography