Flavor-Town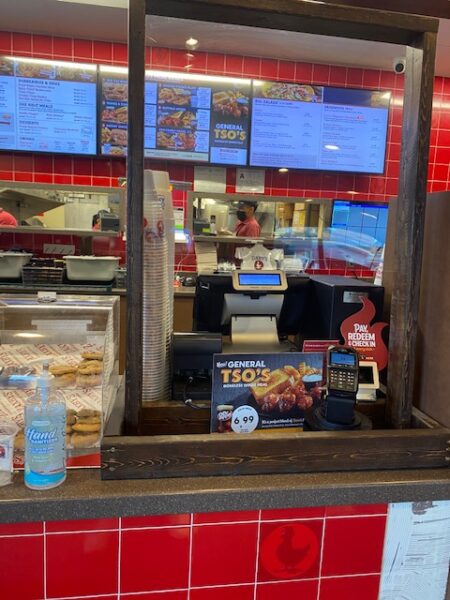 I decided to highlight the restaurant Zaxby's for this assignment. The first thing you notice when pulling up to Zaxby's are the giant blue letters that is spelling the name of the establishment. At night, the sign turns on and projects a powerful blue light that pulls the customers inside the door. In addition to this, the building designer also put string lights on the walls of the exterior that travel vertically from the ground to the roof. This draws attention to the restaurant even more.
At the counter, where you order your meal, the menu immediately catches your eye. All of the potential meals and deals are illuminated off of the screens in high definition, which only makes your hunger grow. The red walls of the kitchen also give the vibe that you are in a diner instead of a fast-food restaurant, and the lights in the kitchen make the walls pop even more which made the interior feel very welcoming. I believe the designers also chose this hot-red wall color due to one of their meal options which offers very spicy chicken wings. If there was one aspect of the kitchen and counter area that I would change, it would be to increase the size of the digital menus.
This brings me to the third, and final, picture that I took inside the Zaxby's… the dining area. The copious amount of booths within this area gave off a very comfortable and wholesome vibe. However, the main example that caught my eye was the elaborate wall art. On the wall there was an illustration of an explosion of bright yellow and orange, and in capital letters was the word "Nuclear". This was very interesting because even when you have already ordered and are eating your meal, you are  thinking about trying out the "Nuclear" hot sauce on your chicken wings the next time you decide to eat there. In my opinion, the poster on the wall (which is advertising a different meal) takes away from the immersion of the wall-art depicting an explosion of color, and metaphorical flavor.