Lester Beall- Posters for the Rural Electrification Administration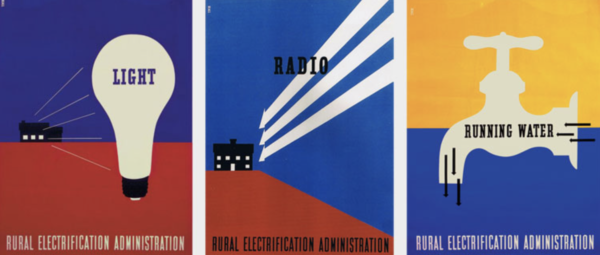 These three posters were apart of a project that Lester Beall completed for the Rural Electrification Administration. This administration agency was founded in the year 1935 by President Roosevelt. The purpose of the agency was to generate electricity in rural areas that, at the time being, did not have the luxury of utilizing. The artist was contacted to attempt to create posters that enticed these people to accept the plan for widespread affordable electricity. The design of the posters was simple, yet bold. The first poster features a house with bold lines extending to a light bulb. The house in the poster is lit. The background colors are a stark purple and red. Inside of the lightbulb, the word "light" is written in purple to stand out against the background. The second poster features a radio with bold arrows extending from it. There is a large house at the receiving ends of these arrows. The background was painted a bright red and a bright blue. Lastly, my favorite, the advocation for running water. The poster displays a picture of a faucet with the word "water" written across it. The background is bright blue and yellow. This really causes the images pictured to pop! The layout and color scheme of the posters all seem very modern. All of the posters he created may seem simple (design wise), but they convey such a large message. These posters depicted a pivotal point in life in the US. People praised the work of Lester Beall, especially his work for the REA. The Museum of Modern Art (MoMA) honored him for his work and displayed these posters for quite a long time.
Works Cited
Flask, Dominic. Lester Beall : Design Is History, www.designishistory.com/1940/lester-beall/.