Who's Who in Graphic Design- Lester Beall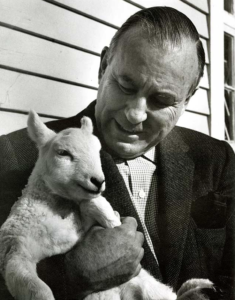 Early Life and Schooling
Lester Thomas Beall was born in 1903, in Kansas City, Missouri. However, Beall spent the majority of his childhood in Chicago, Illinois. His mother was the person who pushed him to be creative and act on his artistic abilities. As a young boy, Beall's mother prompted him to draw. This was not only to deflect his attention away from the financial state their family resided in, but to enhance his creativity. At the mere age of fourteen he began to attend weekend classes at the Art Institute of Chicago. He thrived there by gaining copious amounts of positive feedback from his amateur level art projects. Drawing increasingly became a priority and took up much of his high school career. In, fact it was during his high school years that Beall stayed enrolled in mechanical drawing courses. This contributed heavily to the graphic style design Beall would later come to develop. As predicted, Beall attended the University of Chicago. Initially, he enrolled himself a science program, but later learned he was better suited as an art history major. Something I found interesting was that this university did not offer any art studio courses during the time he attended. He went out of his way to take classes at the university and at the Art Institute of Chicago to maintain his skills in drawing. Lester Beall graduated during the year of 1926.
Career
This artist truly began his career around 1927. He managed work as an illustrator for a handful of different companies. The years of the Great Depression struck hard and during this time Beall remained a low-key artist. During these times he would visit the library and observe the graphic design in French magazines. These observations were pivotal in Beall's career. He was able to refine his artistic intuition. Those impacts can be seen through his artwork and designs, which are still known today. In 1935 he picked up and moved to New York City. Beall owned a studio located in the city which he ran from Wilton, Connecticut. Two aspects of art that were center to his career were photography and fine art. These domains were both heavy influences on the work he produced throughout the entirety of his career. Early on he was majorly influenced by the work of European designers such as Herbert Bayer and Lazlo Maholy-Nagy. During the 1930's and 1940's, Beall produced work for quite a few impressive magazine companies. Corporations who did business with this artist ranged from the Chicago Tribune, TIME, The Art Directors Club of New York, Sterling Engraving, Hiram Walker, and even Abbott Laboratories (Cooper Hewitt.org). Some of his most famous work was for the Collier's magazine cover, debuting an edition on World War II. During the year of 1950 the artist purchased a farm located in Brookfield, Connecticut. It was here, in Brookfield, that Beall decided to merge his business with other growing, in demand ones. Beall's office started to grow, both in terms of his clientele and staff. His company started to make graphic labels and even a manual for one company. Some of these companies include Caterpillar Tractor, Connecticut General Life Insurance, and even the International Paper Company (Cooper Hewitt.org).
Noteworthy Art
Lester Beall was an extremely interesting and innovative designer. Something I find interesting about him is that the idea central to all pieces of his work started with the figure of a person. When asked what her husband was like his wife commented and said, "first of all an artist, not only because of a vital and important talent, but because of an emotional spiritual quality, a very special attitude" (https://www.aiga.org/medalist-lesterbeall). One popular project he is known for is his work for Collier's. Using different techniques and display angles/shapes Beall designed World War II magazine covers for Collier's. These covers were extremely bold and creative, showcasing the silhouettes of soldiers. This is a prime example of his work. Roughly between the period of 1937 and 1941 he constructed the infamous government posters. These were posters for the US Government's Rural Electrification Administration. The design element of the posters is like no other, featuring bold fonts and patterns. These posters, too, displayed the silhouette of American people. This was a ploy to heighten public awareness of electricity. These posters aimed to push the acceptance of the widespread use of electricity and convey its benefits. Another noteworthy accomplishment of Beall's was that he was granted the very first one man exhibit in MoMA! This was still somewhat early into his career. He was certainly an artist that was constantly receiving new opportunities, awards, clients, and praise.
The End of a Life of Accomplishments
Lester Thomas Beall passed away in 1969. Right before he died he wrote, ""By living and working in the country I felt I could enjoy a more integrated life, and although I still need the periodic stimulation of New York City, the opportunity and creative activity in an area of both beauty and tranquility seemed to me to far exceed anything that a studio and residence in New York might offer—the way a man lives is essential to the work he produces. The two cannot be separated. If I could condense into a single idea the thinking we are trying to do here at Dumbarton Farm, it would be to achieve, through organic and integrated design, that power of inevitability. This has for a long time been an effort to work out a way of living for me and my family—and for the people who work with me. It gives me more time at home. It surrounds me with atmosphere I feel is pretty essential to good creativity" (https://www.aiga.org/medalist-lesterbeall). People always noted how he stayed aware of how his surroundings and environment could make a major impact on his art. Living a sixty-six-year long life, forty-four of those years were spent devoted to his career as an artist. Four years following his passing, Lester Beall was rightfully instated into the New York Art Directors Club Hall of Fame.
(Posted Late)
Works Cited
Biography by R. Roger Remington  September 5. "1992 AIGA Medalist: Lester Beall." AIGA, www.aiga.org/medalist-lesterbeall.
"Lester Beall." ADC, adcglobal.org/hall-of-fame/lester-beall/.
"Lester Beall." Lester Beall | Biography | People | Collection of Cooper Hewitt, Smithsonian Design Museum, collection.cooperhewitt.org/people/18048993/bio.
"Lester Beall." Smithsonian American Art Museum, americanart.si.edu/artist/lester-beall-291.