Rick Valicenti's exhibition, (maybe) This Time
(maybe) THIS TIME is an exhibition designed by Rick Valicenti in 2006 for Loyola University Chicago. It explores the relationship between text and various design artefacts. The artist statement is founded on multiple concepts and responds to conversations embedded in social issues. This exhibition comments on the topic of gun violence and its impact on the Loyola fine art seniors. This installation strives to encourage others to engage in challenging, yet important conversations.
In an interview with the president of Loyola Art History Club, Valicenti discusses the role of political integration in design and how it can benefit practicing designers. He states that this exhibition piece is implying the typically overlooked capabilities of design and he hopes to directly project this message particularly to designers of the university. This piece is meant to evoke curiosity surrounding the bland and meticulous practices of design. It does this by showing young designers the extent in which design can be stretched, while also engaging the viewers. He wants to encourage designers to see the similarities between art and design and to keep in mind that being in this practice does not always entail the selling of work or simple aesthetics. The designer toolkit can be used instead as commentary device, or a way to truly impact and inspire an audience.
This gallery work was made to incite a wider approach to designer intention and to demonstrate the vast opportunity of creative endeavors in the process of design. It encourages viewers to initiate change and strives to arouse a fire of purpose in the members of the community.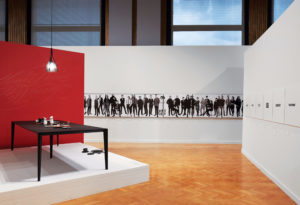 Senycia , Alexandra. "Loyola University Chicago." Loyola University Chicago – DFPA: Fine Arts, 2017, www.luc.edu/finearts/stories/archive/rickvalicentiinterview.shtml.