Alexander Rodchenko: Pure Red Color, Pure Yellow Color, Pure Blue Color
In September 1921, five Constructivist artists (Rodchenko, Stepanova, Aleksandra Ekster, Liubov Popova, and Aleksandr Vesnin) each contributed five works to the first part of a two-part exhibition in Moscow, titled 5×5=25. Rodchenko exhibited paintings titled Line and Cell, plus three monochrome canvases dated 1921: Pure Red Color, Pure Blue Color, and Pure Yellow Color
This painting soon became what some would call his most famous. He is quoted writing, "I reduced painting to its logical conclusion and exhibited three canvases: red, blue and yellow. I affirmed: it's all over. Basic Colors. Every plane is a plane and there is to be no representation."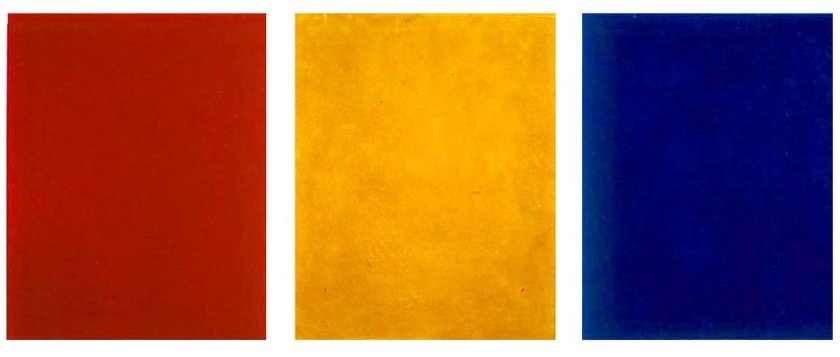 Somewhat distancing himself from aspects of art that he had previously been so encapsulated by, though it is clear to see the influence that some of his abstract Art Nouveau background and his intrigue into Suprematism might have had. Rodchenko reinterprets the iconic art form of the Western tradition – the triptych – which was traditionally reserved for the representation of religious scenes. The piece reflects Rodchenko's interest in Malevich throughout these years, but instead of pursuing Malevich's spiritualism, he stressed the physical, material properties of painting – in this case, color. Rodchenko regarded these pictures as his final statement on painting.
In the eyes of Rodchenko and his fellow Constructivists this sweeping gesture had political as well as artistic significance. His renunciation of painting put into action the words of his colleague Nikolai Tarabukin: "Current social circumstances dictate new forms of art." Having enacted the death of the old forms, Rodchenko embarked on an adventurous quest for new ones.
Works Cited
Tate. "Rodchenko and Popova: Defining Constructivism: Explore the Exhibition, Room 7: 5 x 5 = 25 Paintings." Tate, www.tate.org.uk/whats-on/tate-modern/exhibition/rodchenko-popova/rodchenko-and-popova-defining-constructivism-6.