Jules Cheret
Katie Butler: 
In the midst of the nineteenth century, cultures around the world were resetting on nearly every level. In America, at the cusp of events such as the Mexican- American War, the Civil War, the festering of the use of slavery, and the transition of the American mentality from Romantic ideals to Transcendentalism, almost every aspect of the human condition was being turned on its side. In Europe, where the reverberations of the French Revolution still rung through political and social turmoil years later, was caught in the surges of the Industrial revolution and the pull of nationalism as a cultural trend. 
One artist in particular was able to witness what is possibly one of the tumultuous ages of societal uproar and development history has ever seen. Jules Cheret, a poor French boy who would burgeon into the Father of the Modern Poster, embraced this internal and external chaos and translated all of this richness and cultural development into his art (britannica). 
While he was born in 1836 into a quaint French countryside to a poor typographer's family, Jules Cheret's legacy in design was already accelerating in his early years. Despite having a limited education at a school in the St. Jaques district of France, at only thirteen, Cheret began an apprenticeship with a lithographer for whom he developed brochures, flyers, and posters ("Jules Chéret Biography"). As a "fledgling" artist, Cheret also took evening drawing lessons at Ecole Nationale de Dessin, "under the French artist Horace Lecoq de Boisbaudran. In addition, like most students, Cheret would have absorbed some of the works of famous painters in the Louvre and other museums" (visual-arts-cork). 
Jules Cheret is noted to have studied lithography in London from 1859- 1866, and it is here where he would have learned about the British influence on poster design. According to an article from jules-cheret.org called "Biography of Jules Cheret," the artist returned to France with an artistic vision inspired by "the scenes of frivolity depicted in the works of Jean-Honore Fragonard and other Rococo artists such as Antoine Watteau, Cheret created vivid poster ads for the cabarets, music halls, and theaters such as the Eldorado, the Olympia, the Folies Bergères, Theatre de l'Opera, the Alcazar d'Ete and the Moulin Rouge." It is these theatrical scenes that would become a staple to Cheret's poster designs.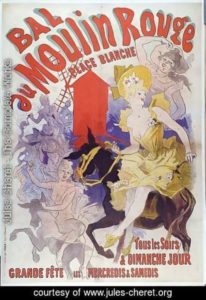 In his teenage years, Cheret began to support his living through his art, selling sketches for music publishers and drawing for the Maple Furniture Company Catalogue ("Jules Chéret Biography"). At eighteen, he received his first major commission to design the poster for advertising Jacques Offenbach's operetta Orpheus in the Underworld (visual-arts-cork ). However, his design career is said to have not truly caught momentum until he received commissions and soon an endorsement from Eugène Rimmel, whose funding, according to an article from Britannica.com called "Jules Cheret: French Artist," "enabled Chéret to establish a lithography firm in Paris in 1866." 
At this time, it was common in the practice of lithography for an artist to be commissioned to create a particular poster, which would then be copied onto a stone and reproduced over and over again. According to Britannica.com, Cheret would design his work directly onto the stone, "using spirited brush lines, crosshatch, stipple, soft watercolour-like washes, and areas of flat colour to create a dynamic image." The article continues that as Jules Cheret began to gain more control over his craft through owning his own practice, "his style evolved from one typical of Victorian graphics, that is, dominated by complex decoration, to a simpler, more dynamic approach in which compositions were dominated by large central figures, prominent hand-lettered titles, simplified backgrounds, and large areas of glowing colour and gestural textures." Where heavy, sombre colors had previously been used for poster making, Cheret's posters were bright, playful, and lively. According to an article from masterworksfineart.com, "He created the technical means to produce posters of all shades in the spectrum using only three to four lithographic stones. His posters capture the 'laissez-faire' attitude of turn-of-the-century Paris"("Jules Chéret Biography"). Cheret's techniques continued to revolutionize poster making as the fine art community knew it during the mid 1800s. 
Soon to be featured in large displays at renowned locations like the Louvre, Cheret's designs were now a treasured commodity. Perhaps one of his more notable characteristics of his posters were his displaying of women in a playful, modest fashion. Where women were commonly depicted as either prostitutes or overly meager puritans, Cheret championed the depiction of women dancing and playing, changing the tone in which women were viewed in the advertising world at the time. According to an article from Jules-cheret.org, these depictions were liberating for the women of Paris: it "lead to a noticeably more open atmosphere in Paris where women were able to engage in formerly taboo activities, such as wearing low-cut bodices and smoking in public. These 'Cherettes' were widely seen and recognised, and a writer of the time said 'It is difficult to conceive of Paris without its 'Cherets' (sic)'("Biography of Jules Cheret"). Cheret continued to produce series of chromolithographs and retired in Nice, France. He later died at the age of 96 having received honors, awards, and international recognition. 
Jules Cheret contributes more than just an art form to the design world. He was a man who illuminated the meaning of design through resilience: he built his legacy from having what some may call minimal resources. Thanks to the free design classes, an apprenticeship, and a creative family, Cheret persevered throughout his life to establish the design repertoire that remains today.  According to Britannica.com, "By the end of his career, Chéret had designed over one thousand posters for music halls, theatres, performers, and products including beverages, medicines, and lamp oil." Cheret's impact on graphic design went on to pave the way for future influencers of the Art Nouveau Movement such as Alphonse Mucha. Moreover, beyond the 19th and 20th century, there is perhaps no clearer example of turning commercial art into its own art form than Cheret's lithographs. As a designer he not only influenced how things were sold, but also how things were seen. 
Works Cited: 
"Jules Cheret." visual-arts-cork. Encyclopedia of Visual Artists. Web. 9 April 2020.
"Jules Cheret Biography." masterworksfineart. Masterworks Fine Art Gallery. Web. 09 April 2020. 
"Jules Cheret: French Artist." Britannica. Encyclopaedia Britannica, 19 September 2019. Web. 09 April 2020. 
"Jules Cheret: The Complete Works." jules-cheret. Jules-Cheret.org, 2017. Web. 9 April 2020.