Peter Max Statue of Liberty
One of the biggest milestones for Peter Max, personally, would be his Statue of Liberty paintings. After the publication of Peter Max Paints America, Max began a tradition where he would paint the Statue of Liberty annually for July 4th. Upon emigrating to America, the Statue of Liberty held a wonder and had always held importance for Max.
In 1981, Max was invited by President and Mrs. Ronald Reagan to the White House. Here is where Max painted a total of six eight-foot tall paintings of the Statue of Liberty. Each one unique. And to top it off, before completing that last of the six paintings, Max invited President Reagan to finish it off. He honored President Reagan with the final brush stroke, and Reagan was delighted that he got to be a part of it. The pieces were placed in the White House Rose Garden where the President, First Lady, and assembled guests and dignitaries could stand before them. Soon after, Max began to lead to restore the Statue of Liberty. He managed to spark the renovation, and upon its unveiling, Max was invited as an honorary guest.
The pieces themselves hold true to the pop art influence Max has, but they also have that raw and messy brush strokes that Max began to express after his creative retreat in 1971. Not to mention, this is only one of the many large projects that Max has undertaken. And even though he has had several presidential encounters, none were done for the President of the United States at this scale and with the President's involvement.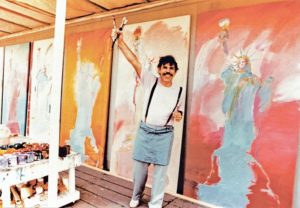 (https://petermax.com/pages/peter-max-biography)