NYC Yellow Pages Cover
Peter Max's magazine covers were found everywhere. So, what makes this one any different than the many created by Max? In 1970, Max's art was on the cover of Manhattan Yellow Pages meaning millions of people saw it. His work was placed on their cover another two times, in 1973 and in 2001. These telephone books were distributed all around in the New York metropolitan area. Max had become a true public figure upon appearing on tv but having his artwork on something so ubiquitous had people everywhere on the streets calling for him. They would say something along the lines of, "Hey Max, I got your yellow pages." Max soon after moved out of the public eye and took a creative retreat. In doing so, it allowed him to explore new directions in painting, ones with heavier brush strokes.
However, this piece on the cover undoubtedly demonstrates the use of pop art as well as some psychedelic art. There are very vibrant, solid colors and one can see that Max touched on the psychedelic art by the figures and the surrounding elements of plants and the sun's rays. Not to mention, he created this after meeting Swami Satchidananda, a yoga master. Max's experience with Satchidananda enabled a newfound connection within himself and his art. The stylistic approach Max had on this cover was very similar to what he did with other magazine covers. They all held the same characteristics, so it was easy to tell and recognize the artist behind the brush.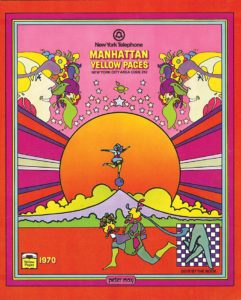 (https://petermax.com/pages/peter-max-biography)