Kyle Cooper's Spider-man Title Sequence
Kyle Cooper's work on Spider-man was revolutionary.  His goal was to make the viewer feel tied into the movie and not want to be anywhere else.  Fortunately, Cooper is successful, having created a title sequence that captures the essence of the heroic and action packed Spider-man movies.  Later, Cooper worked on title sequences for other Marvel movies like Avengers, and this Spider-man sequence set a precedent.  The sequence shows the buildup of emotion and excitement for the movie and mirror the action that will be in the movie.  The original Spider-man movie came out in 2002, and, of course, the quality of special effects weren't as high as they are in modern times.  Despite the lack of technology that is available today, Cooper made up for it with his creativity.  After experimenting with designs, he chose to have the graphics follow an intricate spider web that catches the letter forms.  Eventually, the sequence begins to weave through skyscrapers that will be in the main character's world.  All these elements build up to the shot of Spider-man himself, shooting a web, right as the music swells to its fullest.  This shot mirrors the moment in Spider-man and other action movies where there is a buildup to the fight scene and finally, the audience gets to see a shot of the hero, who comes and faces down with the villain.  Cooper's work on the Spider-man title sequence accurately represents how a viewer is supposed to feel before and while watching the film – there is a slight suspense, but excitement overtakes you because as an audience member, you know that the hero will always save the day.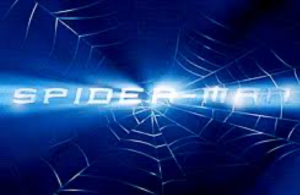 Bibliography
Speaking, Frankly. "Spider-Man (2002): MOVIE SPOILER SUMMARY (after Capsule Review)." Cinesnatch, June 2012, cinesnatch.blogspot.com/2012/06/spider-man-2002-movie-spoiler-summary.html.
Vlaanderen, Remco. "Kyle Cooper." Watch the Titles, www.watchthetitles.com/designer/kyle-cooper/.