If Apples Had Teeth – Milton Glaser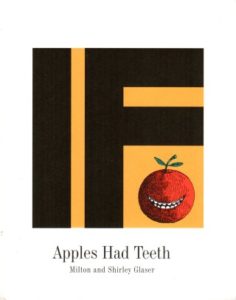 Milton Glaser published "If Apples Had Teeth" with his wife Shirley Glaser in 1960. While Shirley wrote the book, Milton did the illustrations and together they started publishing children's books. "If Apples Had Teeth," questions why things are the way that they are and how things could be absurdly different.  As the book is meant for children it may spark their curiosity and teach them to question things in their life that they simply accept as fact.  The piece was written soon after Mark Twain wrote his Advice to Little Girls,  which implored girls to question social norms.  The book was in line with encouraging the younger generation to question their surroundings and what adults may simply accept as how life is.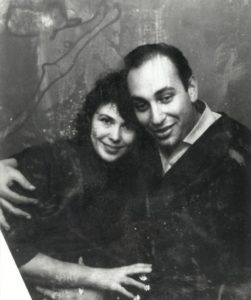 As this book was written by Milton Glaser and his wife Shirley Glaser, it seems that it is one of Glaser's pieces that he would value highly.  The words and the illustrations work together well and both are presented in a playful and simplistic manner that both children and adults can enjoy.  
At this point in his life, Glaser was well known but had still not reached the peak in his career.  While he seemed to truly enjoy the creative pieces he did and took pride in their success, the children's books he illustrated with his wife seemed to be a fun pastime for him and something he did for himself more than for anyone else.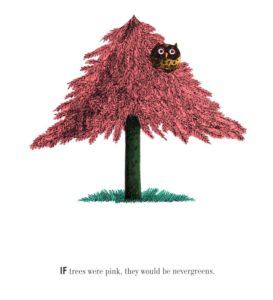 The illustrations show similarities and differences to his other works.  For example, he still used bright colors and manipulated the typography and word choice to embody the story such as the bold and blocklike text of the word "if" compared to the calmer type of the rest of the sentence. The style of the illustrations was less modern and looked more sketchlike, more similar to the drawings he did when he was much younger.  The simplicity of his pieces remains and the work continues to be jovial and urges a pleasant curiosity. 
References: 
Popova, M. (2018, January 22). If Apples Had Teeth: Shirley and Milton Glaser's Lovely Vintage Children's Book About Questioning the Way Things Are. Retrieved April 9, 2020, from https://www.brainpickings.org/2018/01/23/if-apples-had-teeth-glaser/
.
Wack, A. (2014, April 6). Getting to Know Milton Glaser, the Godfather of Modern Design. Retrieved April 9, 2020, from https://hyperallergic.com/118140/getting-to-know-milton-glaser-the-godfather-of-modern-design/