Jokerman – George Lois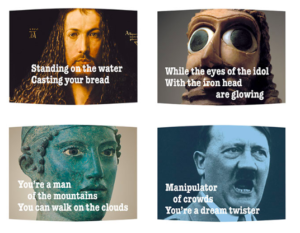 George Lois is no stranger to the idea of promoting people and products in a light that seems like a work of artistic genius. In 1984, he worked in collaboration with Larry Sloman, to direct a music video for Bob Dylan's song, from his album Infidels (Simon). This music video consists of close ups of an aging Dylan singing the chorus of the song, while the verses cut to various works of ancient and contemporary art, with the lyrics overlaid. The video tethers the lyrical genius of Dylan, with historical works of art, which together transcend time and cultural boundaries. Even a few of Lois' famous covers from Esquire Magazine are embedded with Dylan's lyrics and sprinkled throughout the video. This project was outside of the typical realm of Lois' work, as he often dealt with advertising campaigns, art direction for magazine and print media, and graphic design, rather than the emerging medium of film and video. However, in the early eighties, with music videos becoming an important part of pop culture, as well as album promotion, Lois decided to collaborate with Dylan to promote the legendary musician's work.
Bob Dylan, who is commonly regarded as one of the best songwriters and musicians of all time, who's voice defined a generation, commissioned Lois to direct his newest music video. A prominent figure of the sixties counterculture movement, and an artistic revolutionary, whose words transcend the bounds of convention and mainstream media, Dylan was hailed as a literary god amongst men. On the other hand, George Lois ushered the progressive advertisement movement in the 1960's, just as Dylan was the voice of a generation, Lois may as well have been the eyes of the same generation. Therefore, both Dylan and Lois were cultural moguls in their own prospective industries, making their collaboration even more exciting and monumental. The music video went on to be voted 'video of the year' by MTV, and appreciated for the way Lois' artistic vision compliments the otherworldly storytelling that was characteristic of Dylan (Jokerman).
Sources
Jokerman, www.georgelois.com/jokerman.html.
Simon, Ron. "Jokerman Meets Mad Man." PopMatters, PopMatters, 17 July 2019, www.popmatters.com/jokerman-meets-mad-man-2496121865.html.