Franklin and Jefferson Graphics: Charles Eames
The first piece of work that I am analyzing are the Franklin and Jefferson Graphics. These graphics were designed by Charles and Ray Eames around 1975-1976. The Eames officed designed these posters and catalogs for an addition to its final exhibition called The World of Franklin and Jefferson. This exhibition was created in honor of the bicentennial of the American Revolution. It explored the connections between the impact that both, Franklin and Jefferson had on America's independence. The work revealed other individuals that shaped Franklin Jefferson's thinking while stressing their commitment to the independence movement. It highlighted the men's role in writing the Declaration of Independence, the Constitution, as well as the Bill of Rights.
I would consider this a part of print design because it is a graphic design. It represents the Fourth of July when American declared its independence. The exhibition received many outstanding rewards such as observers wishing that all Americans interested in enhancing the observance of our Nation's 200th birthday will make an effort to see the "exceptional" exhibit because it is worth their time. Charles and Ray Eames brought together a collection of original materials, reproductions, photographs, and texts that portray the life and intellectual activity of Franklin and Jefferson, and America as well, in the 18th and 19th century. The British Vogue commented that, "it is the humanity and reality of the exhibition that is so striking, and the meticulous job of assembling the exhibition and casting aside conventional ways of seeing and showing that makes this Eames' masterpiece so outstanding." Overall, the Franklin and Jefferson Graphics get the job done and portrays to the public exactly what it is intended to do.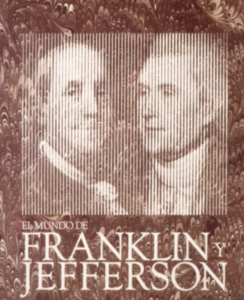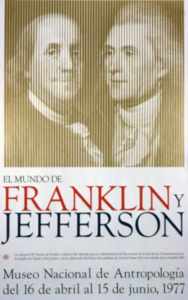 References:
Charles & Ray Eames: The Painter and the Architect. (2020, February 11). Retrieved from https://www.pbs.org/wnet/americanmasters/charles-ray-eames-the-painter-and-the-architect-essay-a-short-biography-of-charles-and-ray-eames/1930/
Charles and Ray Eames. (n.d.). Retrieved from http://www.artnet.com/artists/charles-and-ray-eames/biography
Eames, Charles, Eames, & Kaiser, R. (1999, May 20). The Work of Charles and Ray Eames: A Legacy of Invention Biography. Retrieved from https://www.loc.gov/exhibits/eames/bio.html
Official Site of Designers Charles and Ray Eames. (n.d.). Retrieved from https://www.eamesoffice.com/
The Editors of Encyclopaedia Britannica. (2018, May 31). Charles Eames and Ray Eames. Retrieved from https://www.britannica.com/biography/Charles-Eames-and-Ray-Eames