Michael Bierut
Growing up in the 1960's in a Cleveland suburb, Michael Bierut got an early start to looking at the world through a designers lens by watching a television program that taught drawing lessons and subsequently the design process. He went on to study graphic design at the University of Cincinnati's College of Design, Architecture, Art and Planning. Directly out of school Bierut landed a position at Vignelli Associates [3]. In ten years, he worked his way up to Vice President directly underneath Massimo Vignelli, the creator of the New York Subway map and many Corporate Identities. In 1990, Bierut left Vignelli Associates to join the design firm Pentagram as a partner. He has won countless awards throughout his career, including an "AIGA Medal" in 2006. Working mostly in corporate identity and branding some of his better known work includes The New York Times, MIT Media Lab, The New York Jets, Mastercard and the Hillary Clinton 2016 campaign [3]. But behind all of this work is a quite outspoken designer. Bierut has written countless essays on his experiences with design and compiled them into the book Now You See It, in 2017. He originally published these essays on a website he co-runs with Jessica Helfand called the Design Observer. This led to the creation of a similar podcast series similarly named The Observatory. He is known not only for creating amazing work but also articulating his experiences with the work in an approachable way for all audiences to understand. What sets Michael Bierut apart from many other modern graphic designers is the relationship he creates with his audiences both in the general public and the design world.
There is a lot to learn from Michael Bierut. So much of his knowledge he imparts to us through not only his writing but his work. He is what many young designers aspire to be and his writing makes it possible for people to start to follow in his footsteps. Even if you're not a designer the skills he has learned over the years about working with people are applicable to any field. Bierut has repeatedly said that he "thrives" on negative feedback. He says when things are going in a negative way he really tries to draw the negative comments out of them. Asking them questions like "How much do you hate it? What do you hate most?" After drawing this out of them he shifts the conversation towards what they would like better and how to improve the designs [1]. By having the client open up in the beginning about how they honestly feel they will be more engaged and have a more real discussion about the work. This leads to both the client and the designer being more satisfied and proud of the work they have done together. Michael Bierut believes in his audience. He knows that the general public is becoming more adept to design in the world around them. This can sometimes lead to a more critical audience but Bierut believes his audience. He refers to graphic design as the newest "spectator sport" because of how much more focus has been put on companies rebrands since entering the age of the internet [2]. Although acknowledges that his audience are only critical because they care about the brands and companies that are important to them.
There is also a lot to be learned from Bierut technically speaking as well. Many of his designs are known for their simplicity and clean lines. This is what makes his designs so approachable and recognizable. Bierut has a talent for taking the existing emblems of a company's identity and simplifying them down to their most essential elements while still being recognizable. Looking through his work, the most common theme appears to be shape. A good feature of this is in his identity design for the Museum of Arts and Design (also known as MAD) in New York City. Bieurt used the letters M A and D to fill and simplify them down to their most iconic shapes. The "A" becomes nothing more than a mound looking shape with a rounded top yet we still recognize it as an A because the other two letter forms around it give enough context. Although Michael Bierut does not directly address it, he does love shape grammars. This is clear in the MAD identity design project and many others. When delving deeper into the MAD logo you can see that the "D" form is just the "A" on it's side and the "M" is the "A" form split in half and placed in the opposite order. They all have the exact same size ratio and are really only made from one shape. In this identity redesign, Bierut also used repetition and texture to prevent the letters from looking flat. The use of repetition makes something simple looking, in this case the MAD letters, more powerful because of the sheer numbers. The textures added were tasteful and not too overpowering but gave variation within the project. They made the letters look more kinetic than they would have been if they were flat colored with nothing else around them to give the logo meaning and context.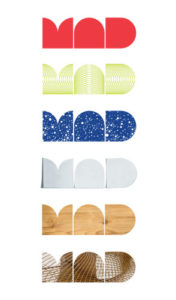 This is not an especially well known or outstanding project of his but it is an important example to show how his projects function. He uses a lot of shape grammars to give him something iconic and memorable but in infinite ways. Once you notice this pattern in his work you can see it everywhere. This is not to say he's a weak designer for using the same formula and running with it because it's a system that works. The projects are successful and memorable. He has a way of getting so many different products out of this system and making them unique to the company he is representing. Using shape grammars to his advantage and seeing typography the same way gives the audience an entry point to see shapes in text that would be otherwise ignored. Some may criticize Michael Bierut for his simplicity, writing it off as laziness but there is more to this simplicity than meets the eye. Behind it there is a carefully crafted organizational system that he has learned to master and market himself for. 
Bibliography
"Articulate."

Articulate

, 16 Dec. 2019, https://www.articulateshow.org/articulate/michael-bierut-maverick-brander. Accessed 1 Apr. 2020.

Bierut, Michael.

Now You See It

. Princeton Architectural Press, 2017.

"Michael Bierut."

Pentagram

, Pentagram, www.pentagram.com/about/michael-bierut.