Takenobu Igarashi: Expo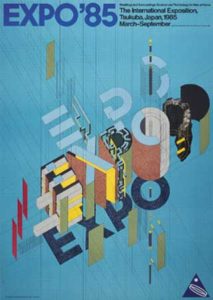 http://outsiderjapan.pbworks.com/w/page/24647433/Takenobu%20Igarashi
This is a poster Takenobu Igarashi designed for the international exposition in 1985. It was printed by Tosho Printing Co., Ltd. and made for The International Science and Technology Exposition Association(Smithsonian Design Museum). This group of 21 posters by the Japanese designer Takenobu Igarashi represents the arc of his graphic design career from the mid-1970s through the early 1990s(Smithsonian Design Museum). An early experimenter with emerging digital technologies, Igarashi incorporated devices such as the photocopy machine to create visual effects and multi-layered designs(Smithsonian Design Museum).
This is a really typical Igarashi's style. He is extremely good at using three-dimensional typography to create posters and other designs. Someone commented Igarashi's style as: "Timeless, arresting, and technically dazzling, Igarashi's signature style demonstrates a mastery of three-dimensional type and perspective draftsmanship, refined long before the introduction of computers into the design industry. (Volume)" 
Most of the time, Igarashi would use grids to make three-dimensional design. In this poster, he used his skills to make the letter "Expo" to become three-dimensional with a lot of components in it. He used lighter blue letters on the top and darker blue letters on the bottom to show different levels of height to show the layers of the letters. When the lighter blue tops are lifted up, it kind of shows the inside of it. Inside P and O, he separated the parts and drew more details in it to make the letters more vivid. By adding those details such as the inside of O looks like a part and around it looks like some electrical small parts, he also matched his clients' needs to show that the expo is for science and technology. 
Work Cited:
"A To Z." Volume, vol.co/product/a-to-z/.
"Poster, Expo '85, 1982." Cooper Hewitt, Smithsonian Design Museum, collection.cooperhewitt.org/objects/1158862503/.
"Takenobu Igarashi." Outsider Japan / Takenobu Igarashi, outsiderjapan.pbworks.com/w/page/24647433/Takenobu Igarashi.
"Volume Presents a Long-Overdue Monograph on Japanese Type Master Takenobu Igarashi." It's Nice That, www.itsnicethat.com/articles/takenobu-igarashi-a-to-z-graphic-design-sponsored-content-021018.