Parasite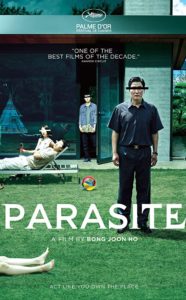 This picture is the poster of the movie "Parasite" which was really famous for a while and it is the first South Korean film to win Palme d'Or. The plot of this poster is ingeniously conceived. I really want to share what I felt from this poster. 
At first sight, the mystery of this poster inspired my curiosity about this movie. Whose white thighs are those? Why the boy is holding a stone? Why are their eyes being covered up? All those questions absorbed me to see the movie to find the answers to those questions.
However, when you look at it more closely you will find more interesting details. The color of the cover-up on their eyes is different. On the right side of this poster, those two's eyes cover-up by the black line. But on the left side, the couple's cover-up by the white line. It may want to tell us that even it looks like the people on this poster live together but they have a different status. Connect to the sentence on the bottom of this poster "Act like you own the place" also confirmed my guess that they do have a different status. What's more, the cover-up on all the characters' eyes means this movie doesn't have a leading role like other normal movies, in other words, everyone on this poster can be called a leading role. This movie only tells the story to the audience by a third-person narrator. 
I highly recommend you watch this movie. If you see this poster again after you finished the movie, you will feel it is really thought-provoking.