Silvermont Mansion Sign
Silvermont Mansion in Brevard, NC, is known for its free, year-round recreational activities available to people of all ages. The members of the board host festivals and events during major holidays, a playground was constructed within the last two years, and public tennis and basketball courts are available to all.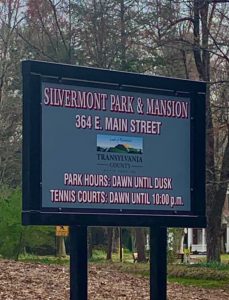 The sign shown to the left is displayed prominently at the entrance, which is why I am so appalled at the poor design. The first thing that caught my eye when this sign was put up was the flat red drop shadow. I cannot begin to understand why this choice was made, my only guess is that one of the unpaid members of the board volunteered to make this sign (probably in Microsoft Word or something similar) to replace the rotting hand-painted one that used to welcome people to the area. The red shadow makes all of the text feel off-center and makes the text itself much harder to read. Upon further inspection, I also noticed the "Transylvania County, Land of Waterfalls" image  in the center of the sign. I'm not sure where they found this image because I've never seen it anywhere else in my county, but it is entirely unnecessary and gets completely lost among the over-stylized text that surrounds it and could be omitted completely. The black text on the blue-gray background makes no logical sense, especially when such an effort has been made to make all of the other information stand out. The bulky black metal frame further draws attention from the image in the center and forces the eye to the edges where, unfortunately, the horrendous white and red text is located. This sign is painful to look at and in no way represents the welcoming, community-serving attitude that the rest of the mansion exemplifies.