Aubrey Beardsley
The artist I have chosen to do for Who's Who in Graphic Design is Aubrey Beardsley. Aubrey Beardsley was the son of Vincent Beardsley and Ellen Agnus. He was born on August 21st in 1872 in Brighton, England. His family was middle and upper class origins although his dad lost all of his fortunes when Aubrey was born. His father worked at London breweries and his mother Ellen provided a small income by giving piano lessons. He had a sister named Mabel,  who would later become an actress. Both Mabel and Aubrey were both artistic and musical prodigies. Aubrey's health was always fragile, when he was nine he had his first case of tuberculosis. His mom would soon become ill and send Mabel and Aubrey to their aunts house where she could take care of them. In 1884, he attended Bristol Grammar School for four years as a boarder, where he showed off his talent of drawing caricatures of his teachers. By age 14, he had published his first poem, "The Valiant" as well as a series of sketches titled "The Jubilee Cricket Analysis" in his school's magazine. In 1889, he was sent to London where he became a clerk in an insurance office. While there he developed a portfolio of Pre-Raphaelites-inspired drawings. Often he would go home every night and draw in his free time.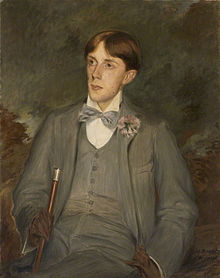 One day in 1891, Aubrey and Mabel went to go see Edward Burne-Jones's studio in Fulham. He was very confident that they would be gained access to his art just by ringing the doorbell. At first they were turned away by the servant until Burne-Jones stopped them and asked them to come in. Aubrey ended up showing Burne-Jones a sampling of his work to which he received high praise for. Burne-Jones said "There is no doubt about your gift, one day you will most assuredly paint very great and beautiful pictures… All [these drawings] are full of though, poetry, and imagination. Nature has given you every gift which is necessary to become a great artist. I seldom or never advise anyone to take up art as a profession, but in your case I can do nothing else" (Kosik 2018). Burnes than become a mentor to Aubrey and even introduced him to additional Renaissance artists like Sandro Botticelli. He then recommended that Aubrey take night classes at the Westminister School of Art, the only type of formal training he had ever received. There he would be taught by painter Frederick Brown. The years 1893 through 1894 were probably the most important in Aubrey's career. He his first commission that being J. M. Dent's edition of Malory's Morte Darthur. This work issued first in twelve parts, and contained over three hundred different illustrations. An interesting thing was that Aubrey formed an alliance who would catapult him to fame and that was Oscar Wilde. He met Oscar Wilde while visiting Burne-Jones studio in Fulham. Beardsley would soon lose that friendship with Wilde as he was tried and convicted of sodomy in 1895. Beardsley would soon have his fame established when he appeared to help Henry Harland with The Yellow Book where his work was brought to a larger public. It was his traditional black-and-white drawings, title pages, and covers that made the journal an overnight sensation. He would then be kicked out because of his relevance to Oscar Wilde, although Oscar Wilde had nothing to do with The Yellow Book. He would soon see himself unemployed but not for a long time, he soon was contacted by Leonard Smithers to ask Aubrey to help him make a rival magazine called, The Savoy. Smithers also hired Aubrey to illustrate Alexander Pope's The Rape of the Lock. Although that did not last very long, he was soon struck with tuberculosis again, and he was often too ill to create. He turned to more explicitly pornographic designs. He portrayed female sexuality, phalluses, and female masturbation. An example of this would be Lysistrata at a time when women were not believed to experience sexual desire. When thinking of adjectives that I would give Aubrey Beardsley, I would give him passionate because he was very passionate in everything he did. Even when he changed to more pornographic designs he still showed his passion through whatever way deemed possible. It's very interesting that although this man did not have any prior knowledge of art, and no prior training he still got as famous as some of the most famous artists that we can think of.
The last years of Beardsley's life were spent trying to complete illustrations for Theophile Gautier's Madame Maupin and Ben Jonson's Volpone. Facing his death,  he wanted to leave behind a beautiful legacy before he died. In his final collaboration with Smithers, Aubrey managed to make his own book, Under the Hill. He wrote the text and did the illustrations for this book. He soon found himself taking residence on the French Riviera in 1896. Before his death, Beardsley would choose to be received by the Catholic Church, and as a repentance for what he felt were sins, he wrote to Smithers telling him to destroy all copies of Lysistrata in addition to any of his other obscene drawings. He later died at age 25, in Menton, France. He had a big effect on the design world as his art was an important development of Art Nouveau. His art would be regularly re-appreciated in Art Nouveau revivals, in cartoons for the Beatles' film, Yellow Submarine. He was a major influence on The Beatles. Reaching success at age twenty, Beardsley's artistic career fits into a tragically short span of only six years. This allowed his art to get out there, but also for not all his talents to be shown to the world. He left an everlasting effect on Oscar Wilde as he wrote to Smithers after he died saying that "there were great possibilities in the cavern of his soul, and there is something macabre and tragic in the fact that one who added another terror to life should have died at the age of a flower" (Kosik 2018). Aubrey Beardsley, an Art Nouveau Illustrator showed the world that through passionate artistry he could always get his points across.
Works Cited:
Simkin, John. "Aubrey Beardsley." Spartacus Educational, Spartacus Educational, 1997, spartacus-educational.com/ARTbeardsley.htm.
McGrath, Mary Beth. "The Life of Aubrey Beardsley." The Life of Aubrey Beardsley, 1991, www.victorianweb.org/art/illustration/beardsley/bio1.html.
Kosik, Corryn. "Aubrey Beardsley." Illustration History, June 2018, www.illustrationhistory.org/artists/aubrey-beardsley.
"Aubrey Beardsley Biography, Life & Quotes." The Art Story, www.theartstory.org/artist/beardsley-aubrey/life-and-legacy/#biography_header.