Lost in D.H. Hill Learning Commons
The Learning Commons at the D.H. Hill Jr. library is described on its webpage as an "active, comfortable space that inspires [students] to be more productive and successful," allowing them to collaborate, discover and create. Traveling to the east wing of the first floor will bring you through a set of doors leading you to the commons, and likely, a large space full of students and low chatter. It's quiet enough for one to get some work done, but just enough noise level that a group of friends or study partners could speak at a modest volume and not worry about being too loud/disturbing their peers. There are a plethora of seats to take, areas available for one to sit privately or with more people.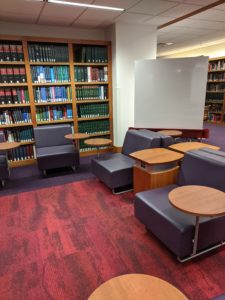 A few of these areas have larger tables to work on, or smaller ones that are closer to the ground that imply more of a meeting area than a space to write/work too seriously in.  Many of the armchairs in these areas have long backs and good cushioning, further implying that these spaces are more for relaxation or light work instead of more intensive studying. Decor such as plants, dark carpeting and low lighting help lend to this concept. Along the walls are trendy, comfortable couches (most of the furniture is collected from Herman Miller) along with outlets for students to plug in their electronic devices, as well as bookcases (as to be expected in a library!) of common texts – encyclopedias, atlases, thesauruses, newspaper prints, etc. Along one shelf on the side of the room was a board game, a reminder that a student can check out games from the library! As these areas are also next to the windows, allowing for some natural lighting or views of the outside, it can be said that these areas are places where students can "get away," to do more casual work or interact with others. While I saw several people working on their laptops or writing in notebooks in this section (closer to the walls and away from the center and pillars of the room), they were also normally accompanied by a friend that they spoke to often.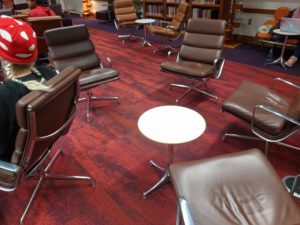 In the middle of the room were larger work tables to seat numerous people for study groups, and most notably – special seating areas that I liked to call study pods. These are workstations equipped with Mac and PC dual-booted computers, outlets, and hanging adjustable roofing mechanisms. In this section of the library are also a scanner and printer. The idea here is definitely work flow. The colors, bright greens and whites promote focus and productivity, while the lighting is not too intense (but definitely still well lit). The office chairs here are more for work, and not relaxation – they aren't really cushioned, they're made of a harder material (to keep you awake!). The pods can fit several chairs, and I commonly saw pairs or groups of three crowded around one computer or working on their own laptops. Many of these pods fit in a space that one could see as being cramped, but with divider walls set in place, the lone student or small group are able to get a decent amount of privacy. Mobile whiteboards were being utilized effectively. It's quieter here, but one can still pick up distant chatter.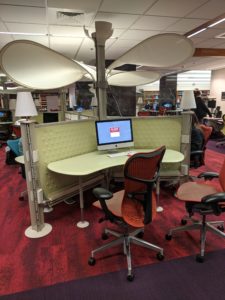 The Learning Commons promotes interactivity, but it's mostly a place of focus. People can relax here if they please, but the vibe is definitely more one of productivity and collaboration.