Jakuchū Goja
My first impression of the Jakuchū Goja is from far away, where I see simple shapes against a black background.  When I come closer, I notice the incredible detail on the designs, and I am suddenly drawn in, almost like hypnosis, seeking out every minute detail of the flowers on the page I see.  Then, I read the little blurb on the side, and realize; this is a wood print, white on black, a completely unique style isolated to Japan, called ishizuri.  I see the accordion style binding and am enraptured at how every design flows into the other.It's a thick volume, with a significant number of pages printed on what I believe to be a dense parchment.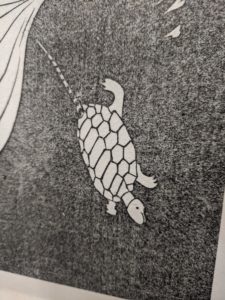 Everything about it feels crafted, from the covers, to the way that the book is carefully shaped, and to the presentation of the images.  The weight of the two books is significant, and strikes me immediately when I attempt to pick it up in my hands. Holding it is a really interesting experience, as I attempt to flip through the pages; it's almost like everything is a diptych, meant to be viewed not in isolation, but side-by-side, and everything has this flow to it.  I look at one, then another, then another, and every single thing shows me a different perspective.The texture of the paper that the art is printed on is coarse and rough; the heavy contrast of the dark blacks, which have faded to a gray static over time, and the white outlines of the shapes create a very hefty, meaningful figure/ground relationship.  I would not have been so attracted to this book if it were just black prints on white; the creation of the black background and the white foreground almost capture the picturesque subjects in their own little worlds. The book itself is silent; the accordion-style layout means that flipping through pages is a breeze, because everything gently folds onto itself.  The binding, the texture, the subjects, and the structure of the thing create a peaceful, serene viewing of the entire collection.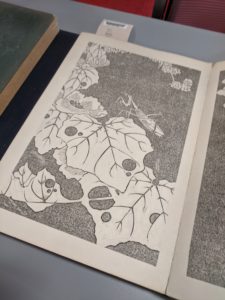 The fact that it is a style of printing completely unique to a particular era of Japanese history is an especially interesting detail, considering that the mid-Edo period was a time of completely cultural isolation, and that these methods were being developed independently of the world.  It really hammers home the idea that visual representations of natural forms and ideas are incredible, identifiable, and transferable between perspectives.I love the fact that it's devoid of absolutely anything except for the designs, each printed specifically on that page, each displaying a single thing that the artist found beautiful in nature.  I can see the vivacity in each picture, and especially the careful hand of Ito, crafting every single print with delicate touch and a love for the craft. The white on black is a simple way, but can lose detail; the designs present here, however, are full of small, tiny details, from extremely thin spiderwebs to the patterns on a beetle's back.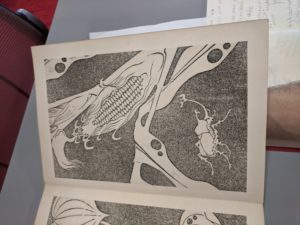 Itō Jakuchū (伊藤 若冲) was a Japanese painter from the mid-Edo (or Tokugawa) period of Japan, which is widely regarded as a period in which Japan completely insulated its arts and culture from foreign influence.  According to the Asian Art Department at the Metropolitan Museum of Art, "In Japan's self-imposed isolation, traditions of the past were revived and refined, and ultimately parodied and transformed in the flourishing urban societies of Kyoto and Edo." (online text) Itō was one such artist whose work was welcomed with open arms, and his diversity in subject matter, focus on realism, and experimentation with many different perspectives led to him being a widely renowned artist of the Kano school, "the longest lived and most influential school of painting in Japanese history." (Met. Museum, online text)
He is most famous for his screen paintings, a majority of which focus on birds of various kinds; it's noted that he kept chickens and fowl in order to paint them more accurately.  However, Itō also painted and created works of many different subjects, including flowers, natural forms, and insects/arachnids, often opting to show some level of decay, to preserve as close a form to the one you could find in nature yourself.  Itō's work is still seen as a phenomenal case study of Japanese art during the 1600s, and is exhibited at many museums, including Tokyo's Museum of Metropolitan Art. (Tokyo Art Beat, online text)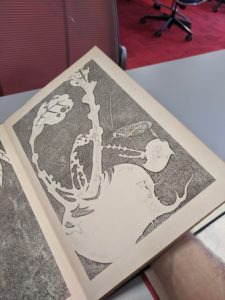 Itō, in this way, represents a snapshot of art history that is wholly unique and free of Western influence, which we so often focus on as being the centrepiece of cultural movement around the world.  I believe, in this way, this makes the Jakuchu Gajo an especially interesting work of design, due to it being a way of producing these phenomenal pictures and representations of nature in a way that is entirely unique to the time period and place.  "Just as light is accentuated by shadow and sound made more beautiful by silence, so was the color print tradition enhanced by the artist's use of black and the lessons learned from ink monochrome painting." (RISD Museum, online text)  The Jakuchu Gajo is a monumental work; one that is an entirely unique Japanese style, done during a time of cultural isolation from the rest of the world, using a technique that is both reflective of and also reproductive of the printing world around it, almost creating a bubble of art history in and of itself.  I believe that this is a significant reason why we want to hold onto this book, these volumes; in a world so inundated with design, where we a constantly primed with ideas, commercials, and different parts of our lives that so significantly affect us, our perception, and our cognition, we can be so swept up in our own ideas that we never have a chance to comprehend what life could be like, if it were completely removed from our cultural sphere.  How would nature be represented? How would we represent it, and what do those differences mean? The Gajo shows an answer to this boggling daydream, purely presented in black and white.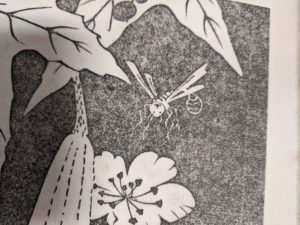 . . .
Department of Asian Art. "The Kano School of Painting." In Heilbrunn Timeline of Art History. New York: The Metropolitan Museum of Art, 2000–. http://www.metmuseum.org/toah/hd/kano/hd_kano.htm.
Department of Asian Art. "Art of the Edo Period (1615–1868)." In Heilbrunn Timeline of Art History. New York: The Metropolitan Museum of Art, 2000–. http://www.metmuseum.org/toah/hd/edop/hd_edop.htm.
Minami, Aoyama. "Jakuchu Ito 'Floral Designs of Edo.'" TAB, Tokyo Art Beat, 3 Apr. 2014, www.tokyoartbeat.com/event/2013/0F36.
"The Beauty of Black in Japanese Woodblock Prints from the Abbey Aldrich Rockefeller Collection." RISDMuseum.org, RISD Museum, 20 Mar. 1990, http://risdmuseum.org/exhibitions-events/exhibitions/beauty-black-japanese-woodblock-prints-abbey-aldrich-rockefeller.
The Editors of Encyclopaedia Britannica. "Itō Jakuchū." Encyclopædia Britannica, Encyclopædia Britannica, Inc., 23 Oct. 2019, www.britannica.com/biography/Ito-Jakuchu.