The Life of Pablo Album Cover
I spend a great deal of my time parsing through various music streaming services finding new artists and music to listen to. One of my favorite artists to refer back to is none other than that of Kanye West. In this particular post, I will be dissecting The Life of Pablo's album cover. This particular album is one of my most streamed and my favorite. It boasts a different side of Kanye that allows the listener closer into his thought processes and life. It features a total of 20 songs that are crafted with purpose and strike a chord with listeners like myself.
At first glance, the Album cover appears to be fairly chaotic and does not make initial sense. Upon looking at the poster closer, one can see text stating Which / One. This relates back to the songs FML and a few others on the track. It is looking at the journey of Kanye and how he has had to decide which path to take regarding family, partying, and relationships. The images that appear overlayed on top of the words appear to be photos potentially taken by Kanye or someone close to him. The bottom image displays a woman in a bikini in front of a pool. I believe this is depicting his decisions related to picking who to date. He discribes dating a porn star and how it was a poor decision on his part. The top image is that of a family portrait. The Which / One text alludes to Kanye choosing between the life of partying and that of having a family.
Khole Kardasion, sister of his now wife Kim, states "Which Pablo? Pablo Picasso, Pablo Escobar of course, the Apostle Paul. [Paul] inspired and was the strongest influence of Christianity. Pablo Escobar was the biggest mover of product, and Pablo Picasso was the biggest mover of art. And that mix between message, art, and product is The Life Of Pablo," in regards to the meaning of the title. Kanye's naming of the album suggests that he and his music are of great significance. He inspires many and is a large mark in history. I do believe that Kanye's work is one of a kind and deserves to be revered as top music content. These ideas are brought out heavily through the use of the bold and repeated text. The title of the album being repeated continuously draws the users attention and results in a greater display of the message. I believe this stylistic choice was done in order to both provide emphasis and create a unique design that captivates the viewer.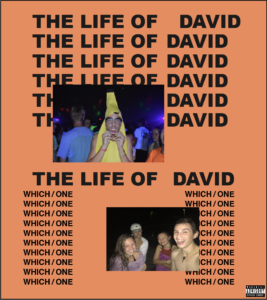 My Take on the Life of Pablo
"Kanye West Explains What 'The Life Of Pablo' Means." Genius, genius.com/a/kanye-west-explains-what-the-life-of-pablo-means.