Smartly Branding in Target
In the fall of last year, Target released their new exclusive brand called "Smartly." The brand is comprised of personal care and home essential products, all cohesively tied together by consistent minimal packaging. The simple packaging and pastel colors are what immediately caught my attention. Seeing home appliances like laundry detergent and cleaning wipes have such subdued packaging unlike their usual bold and extremely saturated exterior was a surprise. Nevertheless, the brand's association with Target is made known with the usage of Helvetica. The visual hierarchy on the packaging is established with the varying weights, as the bolder typeface is used to state the name of the product while the thinner typeface is used for the description. In front of each straight-forward description is an arrow, almost making it seem like a side-note. It's also interesting to see how instead of putting the scent of the hand soap as the main heading on the packaging, it's instead placed as the caption for the whole product. The only other element other than the dark blue type is the iconography that varies with each product. I am personally a big fan of simplified icons and this perfectly is in line with that aesthetic. There is variation that can be seen in the positive and negative space, as observed below in the hand soap  versus the shave foam. To distinctly separate the two, the designers have intentionally kept the icons as the negative space for the shave foam since the scents are the same.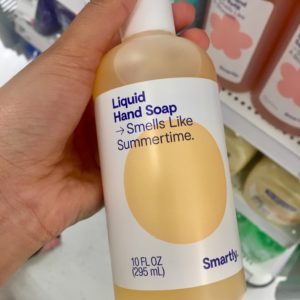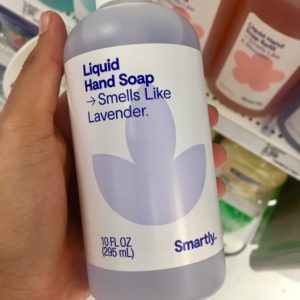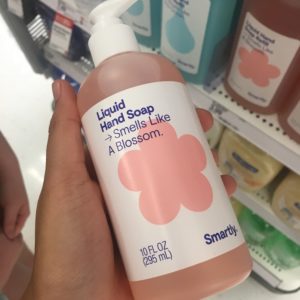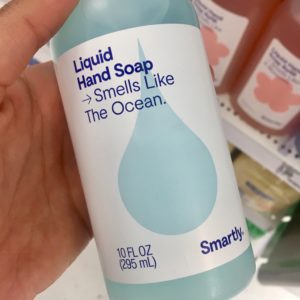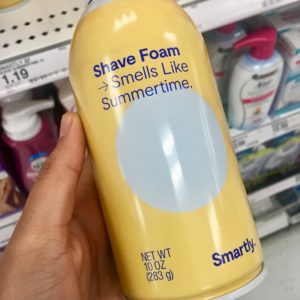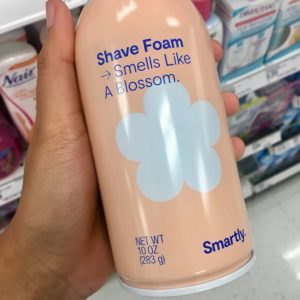 Something I personally believe when looking at the packaging is that these items look better together as a series  rather than as individual products. This could be purposeful, as it might entice the consumer to buy multiple products almost as if they are collectibles. The concept of a series/line-up of products is appealing to customers, and the designers definitely made the most of that in their packaging choices.
Another notable brand Target has is "Up and Up," and I think in this comparison it is quite obvious the choices "Smartly" takes to stray away from conventional means of packaging household appliances and needs. Instead of adding any images or actual photographs of a sandwich, the packaging merely has a rather abstract "rolled over" figure with a pastel green background. The philosophy of the branding overall is that the product names and iconography speak for themselves, and this simplicity invites the consumer to believe that the obvious choice is to purchase their products since it is the "smartest" option.