Art Chantry: Give Peace A Dance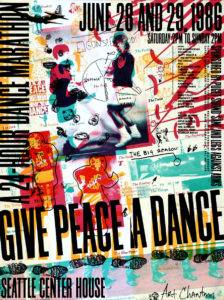 This is a poster designed by Art Chantry in 1986, for the Give Peace a Dance event held during the World's Fair at the Seattle Center House. The Give Peace a Dance event is a twenty-four hour dance marathon put on to raise funding for the nuclear freeze movement that ended in 1989. Chantry calls this project a case of "design by committee" as after several meetings with committee members organizing this event, he worked to incorporate every single design idea that they presented.
In contrast to the cover  he designed for Estrus Records, here you can see more evidence of the different crafting styles or methods that Art uses in his designs. Chantry is a huge advocate for maintaining the relevancy or incorporation of older design processes such as photocopying and the use of typesetting, which in this project he reveals that the typography was either set by a typesetter or hand-cut and pasted letter by letter. This project was inspired by a Dutch postage stamp designed by Jan Van Toorn, and incorporates imagery of individuals dancing, as well as a sort of "map" or instructional of the placement of the foot along with treatments that convey a sense of movement. He does a really great job visually communicating the cause further by hiding within these more obvious observations, photocopied images of weaponry in the background bringing these two elements of dancing and nuclear protest together by presenting the names of the different types of weapons as dances. For example, The Twist and The Monkey.
Bibliography
"TypeTalk: The Work of Art Chantry." CreativePro.com, 27 Oct. 2015, creativepro.com/type-talk-art-chantry/.