Art Chantry: Estrus Records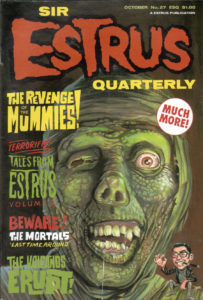 I was surprised by the number of projects that Art Chantry had been a part of outside of the traditional design realm, and the influence that he had not only within the design world, but also within the music industry. After reading through a couple of transcribed interviews held with Art, I discovered that one of his favorite projects was one that he had done with Dave Crider, the owner of Estrus Records.
Pictured above is the cover of one of the catalogs that Art designed for Estrus Records in that they issued in order to promote their artists' and upcoming releases in 1995. In this project alone, Art's strategic design choices and voice are prominently portrayed. This project was influenced by an older Famous Monsters of Filmland magazine design by Harry Chester, one of the notable influences that Art credits for his design style. I discovered that Chantry steers clear of the label typographer, and refers to his productions as lettering due to his nature to hand-craft or build type for projects versus using default typefaces and this piece showcases this quality of his process very well as all of the lettering was hand-drawn. The intent behind this design choice was to reproduce the appeal and style of the Famous Monsters of Filmland covers in the 1960's as a parody of the original issue. It was these types of typographic exploration and imagery combinations that Art contributed to visually defining the grunge movement, and coining him as the "Seattle's unofficial granddaddy of grunge".
Bibliography
"TypeTalk: The Work of Art Chantry." CreativePro.com, 27 Oct. 2015, creativepro.com/type-talk-art-chantry/.