Art Chantry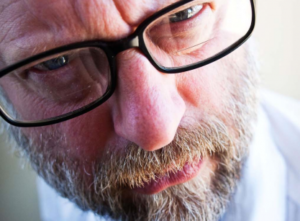 "Seattle's unofficial granddaddy of grunge" was born on April 9th, 1954 in Seattle Washington, and has always had an appreciation old-fashioned commercial art despite the incorporation or emergence of new technology. He received this title through the impact of his cultural design commentary seen in his designs of show posters, album covers, magazine design, and logos during the eighties grunge movement. After having attended three colleges, Chantry officially received his bachelor's degree in art from Western Washington University in Bellingham, Washington in 1978. His interest in typography and design first came about through hand-drawn letterings for friends in high school, and later began to incorporate imagery into his work in which led to his interest in design to grow. Art has taken on many roles throughout his design career from joining forces with The Rocket as an Art Director, to working as a one-man design company all in which he contributed to the visual definition of Seattle's cultural scene that is portrayed in his cultural posters and music packaging. While in retrospect Art has established a remarkable design career for himself, he has never sought out or accepted an opportunity based on the potential for personal gain. Any project that he has either created or been apart of was solely in part to his passion and connection to the project and wanting to be as involved with the matter as much as he could on a grand scale.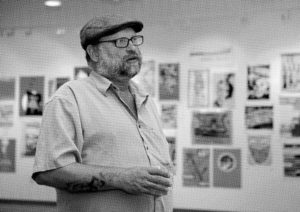 With his contrarian approach in his designs, Art Chantry is known for his exploration of subculture visual communication and unapologetic celebration of the diverse characteristics that made up the culture. He believes that the "purest graphic design bears the imprint of a community" and conveys the true essence of a place and time if even for just a brief moment of time (2017 AIGA Medalist Art Chantry). Having growing up and developing his eye for design in a time where the digital climate was not as prominent, Art values the process of making graphic design more than any other aspect of the profession. Due to the invasive nature of technology, he has had to incorporate this into his process more than before, however, Art still manages to utilize original methods of acquiring the components that he designs with and strives to sustain the look of "printers' accidents; splotches and registration failures when people had to master unwieldy tools"(2017 AIGA Medalist Art Chantry) as well as his belief of computers to be limiting in terms of design. He manages to do so by using tools such as stencils, label makers, and running imagery through photocopiers multiple times as needed to give a piece that vintage feel. Chantry favors the original methods and processes of design as he believes that it was through that struggle of design that made it humanized and encourages everyone to learn about these methods.
As hands-on and complex as Chantry's approach to manufacturing his design is, his process for developing ideas for a design could not be any more different. Surprisingly, the majority of his ideation process takes place in his head, taking an estimated thirty-minutes for physically executing the final design, which he credits this ability to his experience in design for fifty-years. While Art usually formulates exactly what he wants to design before sitting down to do it, he does this mental thinking over the time span of a month before crafting the design which aids in his quick turnaround. Chanry found that most of the time he spent trying to figure out how to present and explain his design to a client, which led him to adjust his process to require more collaboration with the client thus allowing for smoother articulation. In relation to the potential drawbacks of working with clients such as articulation, Art is selective about the clients he takes on projects for in response to this.
When approaching a design, Chantry is sure to place emphasis on the personality that is reflected in the project. The decisions that Chantry makes to showcase this personality are based on the personality, thinking, and needs of the client. He focuses on this aspect of design in order to successfully communicate the client's message to the audience, and to present this information in a way that the viewer has or keeps an open mind about the call to action. With the power of skilled design, he states that it's his job to "use the language of graphic design to talk that viewer into buying this product, attending this event, or voting for this candidate" (TypeTalk: The Work of Art Chantry).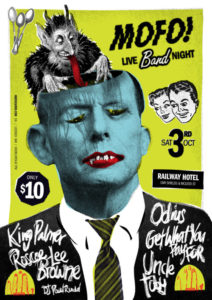 Art's typographic and visual design choices that influenced the personality that he portrays in his work came about by his great interest in comic books, as well as the strong influence of television and pop culture. In an interview with Ilene Strizver, he discloses that it was through the exposure to Famous Monsters of Filmland by Harry Chester and his use of monster type, as well as learning through the work of William Golden, Lou Dorfsman and Herb Lubalin on the CBS evening news how make important announcements typographically (TypeTalk: The Work of Art Chantry) that aided in his approach to design.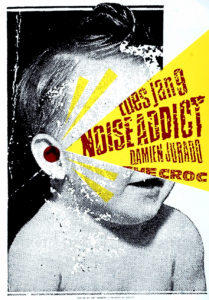 Much like his process and methodology, Art's design style is non-conforming and rebellious. In another piece on Art by Cooper Hewitt, they further describe his design style as incorporating "juxtaposing large type, with eye-catching imagery often appropriated from clip art, exploitation magazines, and hot-rod culture"(Art Chantry). Chantry values the vernacular that is depicted through design, and even himself served a huge role in using high and low culture design to "close the gap between the energetic designs of untrained artists and the smooth expressions of professional communicators" (2017 AIGA Medalist Art Chantry). His aim with his designs was to bring the sound of punk into a visual form including characteristics such as layered, textured graphics (often nostalgic references) and incorporates the jagged-hand lettering of science-fiction paperback novels. It was through design choices such as these that Art sought to make designs that grabbed the attention of every viewer serving as an ocular bull's eye and defining his mark on design and society today.
Bibliography
"Art Chantry." Art Chantry | Biography | People | Collection of Cooper Hewitt, Smithsonian Design Museum, collection.cooperhewitt.org/people/18041683/bio.
Augustin, et al. "Art Chantry." Index Grafik, 25 Oct. 2015, indexgrafik.fr/art-chantry/.
Biography by Julie Lasky. "2017 AIGA Medalist Art Chantry." AIGA, www.aiga.org/2017-aiga-medalist-art-chantry.
"TypeTalk: The Work of Art Chantry." CreativePro.com, 27 Oct. 2015, creativepro.com/type-talk-art-chantry/.