John Massey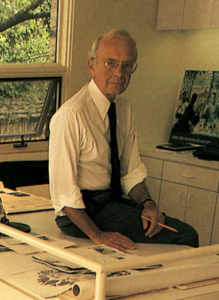 Born in Chicago, Illinois, on July, 6th, 1931, John Massey would come to be known as one of the premiere contemporary graphic designers of the twentieth century. He became interested in design as a young boy, partially following his father's footsteps into the realm of architecture before eventually finding his niche in graphic design. At an early age Massey began to study cartoons and newspapers, making it is easy to see where Massey received some of his early inspiration. Utilizing linear perspective and contemporary design archetypes is an important aspect of Massey's design. Massey also took inspiration from his childhood obsession with the press and the many typefaces and design techniques that are involved with the newspaper creation process. This curious obsession led him to become an illustrator and cartoonist for his high school newspaper and yearbook. After graduating from high school, Massey enrolled in the Illinois Institute of Technology. Here, he would continue to pursue his dream of becoming a cartoonist while weaving in new and evolving elements of graphic design into his work. As a senior at the Illinois Institute of Technology in 1953, Massey was offered the chance to volunteer at the International Design Conference in Aspen, Colorado, which would soon become a turning point for both his aspirations and future career. At this conference, Massey was introduced to copious amounts of new design techniques including the style that would sweep him off of his feet, modern design inspired by Swiss designers Armin Hoffmann and Joseph Mueller-Brockmann. This conference would become a defining moment laying the groundwork for Massey's career.
Upon graduation from the Illinois Institute of Technology Massey started his own design studio, hiring several artists and designers to work for him. This studio would prove to be a success after Massey accepted a job with the Container Corporation in 1957 and was given the opportunity to assimilate his entire studio into the Container Corporation design team. This was revolutionary because prior to the shift, corporations rarely hired graphic designers and especially not full studios. Massey's newly formed department became known as the CCA Creative Branch, in which he was tasked with putting together art and advertising materials for CCA. It cannot be understated how important this paradigm shift was for graphic design. For the first time, graphic design began to play a pivotal role in the marketing and advertising of consumer products and artists like John Massey were given the proper funding and creative space to produce increasingly inspired work. These funds allowed him to explore the new world of computer photomanipulation and draw himself into the cutting edge of graphic design. Many of his pieces during this time had strong architectural and linear themes, seemingly inspired by his experience of youth. He was eventually promoted to oversee the Art department as well as public relations and advertising.
John Massey is one of the most important graphic designers in history. His work for the Container Corporation on America changed the entire landscape for graphic designers in the corporate realm and shifted the focus of advertising to genuine design. He once said that "graphic design is in a position to influence industry with greater depth than ever before" and this was directly because of his contributions to the CCA (Massey). The influence he originally took from the International Design Conference as a college student was making a direct contribution to both the CCA and American economy as a whole. His bounding strides in the corporate world helped lead the way for graphic designers around the world and fundamentally changed the way businesses advertise and design products as a whole. After his decade long tenure with the Container Corporation of America, Massey went on to become a founder of the Center for Advanced Research in Design in Chicago (CARD), his home town. This center allowed Massey to continue his design work from a satellite office in Chicago. This Center was formed in 1965, and it continues to educate and research new techniques in the ever-evolving world of graphic design. Through this organization, Massey regularly consults with some of the most pervasive companies across the world in order to bring more of his technique to light.
Massey's style can best be described as minimal contemporary with a focus on negative space and linear shaping. He was almost a scientist with his adept ability to cross mathematics and geometry with abstraction and modern design. Victor Margolin once said that "Massey thinks as an artist and designer simultaneously" which is an important distinction to make when talking about his immense contributions to both worlds (Margolin). Using his knowledge of both artistic expression and practical design Massey carved his way into the history of Chicago and graphic design. Many of his works can be seen today on the streets of Chicago as his works have been commissioned to line the city streets as posters and flags that hang from street poles.
There were many people along his journey that helped influence his style and allow him to flourish in the design world. He held a brief job right out of college with the Illinois University press working for Ralph Eckerstorm. Eckerstorm would eventually be the one to bring him on board at the Container Corporation of America after recognizing his unlimited potential. While working at CARD it was said that the environment for some of the hired graphic designers was "a scary place to work because the pressure to do great designs was so intense" (Crosby). This exposes that fact that surrounding yourself with the best of the best, while it may be daunting, creates an environment of excellence.
In 1994, Massey was awarded the AIGA Medal, which is the most distinguished graphic design award in existence. His contributions to graphic designs will never fully be known because of the scope of his work both in the public and private sector, but it is safe to say that his designs have influenced much of modern corporate design. Massey continues to teach and develop his design technique as a professor at the University of Illinois Chicago.
Works Cited
Poulin, Taylor. "Review: John Massey: Cartón De Venezuela at The Art Institute of Chicago." Third Coast Review, 31 Dec. 2016, thirdcoastreview.com/2016/12/29/review-john-massey-carton-de-venezuela-at-the-art-institute-of-chicago/.
"John Massey." John Massey Biography – John Massey on Artnet, www.artnet.com/artists/john-massey/biography.
Ranallo, Anne. "Graphic Design at Work and Play." Graphic Design at Work and Play | UIC Today, 2016, today.uic.edu/celebrating-graphic-design-at-work-and-play.