Stefan Sagmeister
Stefan Sagmeister was born in Austria in 1962 where he would grow up and later study. His design career first started when he worked for the Austrian magazine Alphorn. He studied at the University of Applied Arts in Vienna until later being accepted at the Pratt Institute in New York as  a fulbright scholar. He would study communication design and receive his masters. Stefan is still alive and actively practicing in New York City alongside a partner.
Stefan started his early career working in Hong Kong under Leo Burnett. During his Ted Talk in 2004 titled Happiness by Design, Stefan would state that despite the positive superstitions he received upon entering Hong Kong, he did not enjoy his time. He was indeed, not happy and felt as though his designs portrayed that sense of despair. He then went to work underneath Tibor Kalman who would provide him a solid foundation and ideologies that would carry throughout his career and into today. Before working for Tibor, Stefan contacted him every week in order to find work or gather a response. He was infatuated with the way that Tibor Kalman explored the ideologies and imagery often found within the greater culture as well as the emotional impact of common social taboos. Tibor Kalman was considered a bad boy of design and often challenged Sagmeister to challenge the norms of design culture and of society as a whole. Stefan would share in an interview that "Tibor Kalman was the single most influential person in my design-y life and my one and only design hero." Tibor and his company housed Stefan Sagmeister until they disbanded. Despite Tibor kalman's company breaking up, many of his design philosophies and aspirations were carried forward by Sagmeister. Upon the break up, Stefan's portfolio was highly developed and he started his own firm. He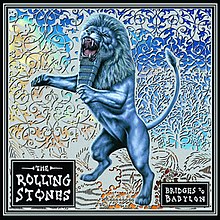 His career has been noteale for quite a few achievements highly circulating around the music industry. He has been nominated for multiple grammys as a result of his album cover curation. He has worked with artists such as the Rolling Stones, Mick Jagger and Jay-Z. On a few various circumstances Stefan would state that he enjoys the creation of these designs more than others because they are included on projects that can directly affect how the viewer feels. The design in which Stefan looks to create encapsulate the message of the artist and their music. His unique typography and graphic design background translate to unique displays content creation. Aside from his work within the music industry, he is also well known for work such as when he made an announcement for Aiga design. He was on display both during the event and for the poster announcement which highlighted his semi-nude body. Written on his body was all of the necessary information about the event, however, it was written with a sharp object. His red flesh oozed the contents of his message using his body as the medium. This avant-garde method of delivery seems to encapsulate him as an artist as his style is unique and on conforming to the social norms that many other classically trained designers adhere to. Using typography both in this sense and on display within his graphic designs is very common for most of his works. The fusion between his typographic background and his love for graphic design creates unique branding that many firms have flocked to. This has been his style or as he would call it his FART. Many collections appear with bright, simple colors, with bolded black text or a larger image juxtaposed to his own hand writing or a unique typographic font of his own design.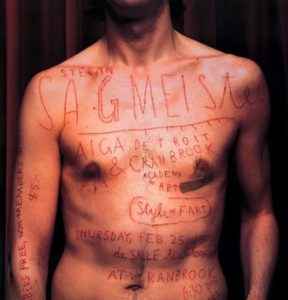 Many would describe Stefan as a man that is both a leader, innovator, and trickster. He does not create the new in every sense, but often finds himself rewriting what many believe the correct method of doing something is or simply creating a new path in and of itself. When he was asked about the adherence to trends and whether or not he would use them he responded by saying, "Yes, of course. So much of what we design is ephemeral and has to be of its time. If I see a magazine from the 60-ies now, I find it enriched by the style of its day. The same is obviously true for current work." He is able to recognize the importance of dwelling in the present and not being so avant-garde that the viewer does not adhere to the message. He balances the fine line of a wild selection of design and maintaining cohesion with the times. His philosophy of doing everything twice is very much inline with this practice. He states that one should do things twice because the first time there are mistakes, the second time one perfects their craft, and the third time one gets board. He is the second time for trends. He pushes the boundaries so they are still fresh, but perfected. Stefan Sagmeister does not dwell in the dead and old trends, but perfects and creates new avenues.
Stefan Sagmeister has been an incredibly influential designer for both the music world as well as future designers looking to influence the world around them and challenge the conventions of design. His style of work can be seen across pop-culture as he introduced the typographic juxtaposition with graphic design. This phenomenon has increased in popularity as it is seen in many technology companies and internet influencers content creation. Stefan's impact will far outlast that of his CD covers, exhibitions, and occasional stunts where he cuts his body to convey a message. He will remain relevant and intertwined within the design world because he continuously pushes the issue at hand creating new experiences for all of his beholders.
Nineteen years after the creation of Sagmeister inc. his design firm, Stefan brought on the likes of Jessica Walsh. Walsh was a mere 25 years adding a varying dynamic to the already established and revered Stefan Sagmeister. His design firm was then renamed Sagmeister and Walsh, and it experienced its first day view when they posed nude on a postcard for the world to see. Alongside Walsh, they look to push the envelope as to what is socially acceptable.
Bibliography:
Flask, D. (n.d.). Retrieved from http://www.designishistory.com/2000/sagmeister/
Stefan Sagmeister. (n.d.). Retrieved from https://collection.cooperhewitt.org/people/18052911/bio
Stefan Sagmeister. (n.d.). Retrieved from https://www.aiga.org/medalist-stefan-sagmeister
Sagmeister and Walsh (n.d). Retrieved from https://sagmeisterwalsh.com/answers/stefan/