William H. Bradley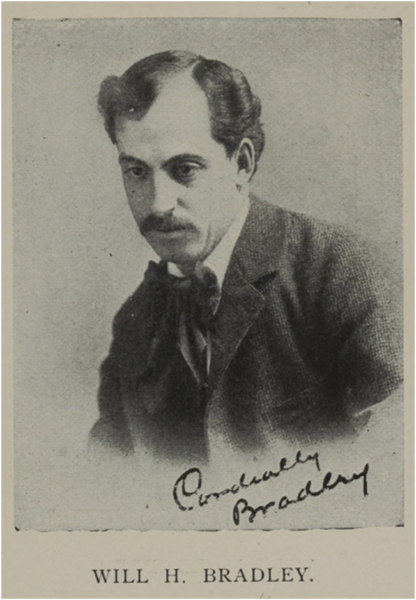 Penfield, Edward, and Pollard, Percival. Posters in miniature. New York: R.H. Russell (1896), pg 240.
The American designer William H. Bradley is one of the most influential designers of the late 19th and early 20th centuries. Regarded as the "American Aubrey Beardsley," Bradley left behind a legacy of incorporating many  styles into design due to his combination of various European style principles with Japanese art principles. He is also credited with introducing American designers to the principles and style of Art Nouveau. His influence can be seen in poster design, book design, architecture, typography and film.
William H. Bradley was born on July 10th, 1868 in Boston Massachusetts. He and his family lived there until the death of his father in 1880. After his father's death, Bradley's family moved  to Ishpeming, Michigan (Lindsay). It was there that he first got exposed to the printed press and design, as he worked at Iron Agitator, a printing company, and later J.Manz & Co., an engraving company (Lindsay). In 1886 he moved to Chicago and once again worked in the printing industry, this time at Knight and Leonard, which he left after three years in order to become a freelance designer (Lindsay).
The first few years of Bradley's freelance career were fruitful. Most of Bradley's commissions consisted of magazines, advertisements and books (Will H. Bradley). Some of the works in his early years included the first Inland Printer designs as well as various designs for Vogue magazine (Lindsay). His work was displayed at many exhibitions, such as the 1892 'Fourth Annual Black and White Exhibition" and the 1983 World's Columbian Exposition (Lindsay).
William Bradley rose to fame in 1984, with his work on advertising posters for the magazine The Chap Book. The first poster in this series, The Twins, was considered to the first American Art Nouveau poster (Will H. Bradley). That same year, he persuaded Inland Printer to offer him a commission for their monthly magazine cover design. It was this work that solidified his reputation as an illustrator (Will H. Bradley).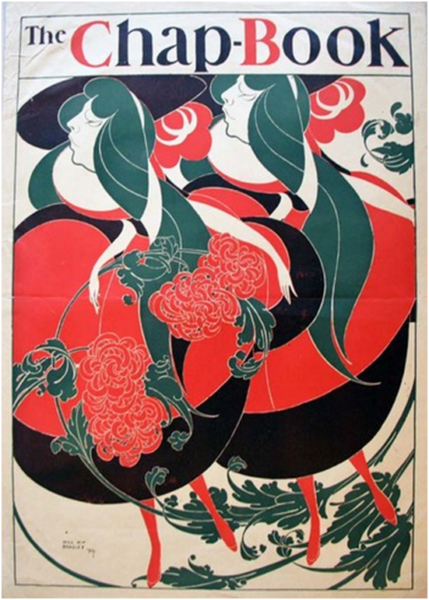 Mellby, Julie. "The Twins." Princeton University, The Trustees of Princeton University, 3 Oct. 2011.
In 1985, Bradley and his wife and children moved to Springfield, Massachusetts, where Bradley set up his own private press, the Wayside Press (Lindsay)(Will H. Bradley). Beginning in May, 1986, Bradley began to publish his own magazine titled Bradley: His Book (Lindsay). The periodical featured poems, short stories, illustrations and advertisements, all of which was Bradley's own work (Will H. Bradley). In addition to his magazine, Bradley continued to take commissioned work. One notable piece was the Fringalla, a compilation of poems by R.D. Blackmore (Frohlich). Bradley's designs display an influence of Aubrey Beardsley's designs, as well as the principles of the Arts and Crafts Movement (Flinchum). In 1898, Bradley sold Wayside Press to the University Press of Cambridge (Will H. Bradley).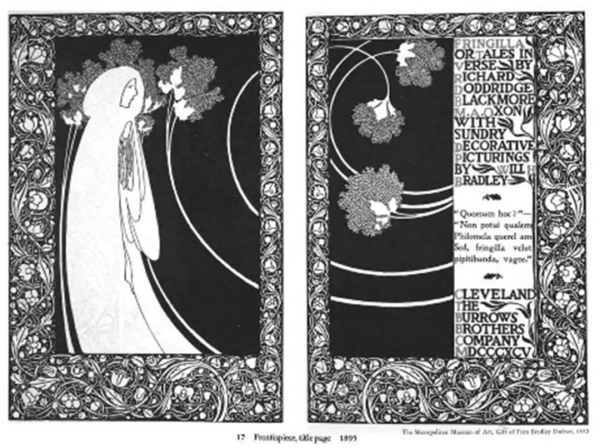 Will Bradley: His Graphic Art: a Collection of His Posters, Illustrations, Typographic Designs & Decorations. Dover Publications, 1974. p.17.
Coinciding with the turn of the century, Bradley's style evolved once more, as Bradley accepted another regular magazine cover commission, this time with Collier's magazine. His style for these issues was characterized as playful and highly stylized (Will H. Bradley). He also welcomed the opportunity to produce magazine art for The American Chap Book (Will H. Bradley). He continued to create designs for Collier's and The American Chap Book for the next five years (Lindsay).
Aside from book and magazine cover designs, William Bradley was also known for his house designs and interior designs, a commission he received from the Ladies' Home Journal (Lindsay). His designs once again featured the principles and trends set out by the Arts and Crafts movement (Will H. Bradley).
Starting in 1917, Bradley's work took him away from the static images of poster and book design, and into the world of silent films. He wrote and directed many films, the most famous of these being Moongold, which featured black and white imagery and few props. The film was a success and held the record for "longest first-run short subject film" (Lindsay).
The iconic designs created by Bradley, and his contributions to the field of Graphic Design earned him many awards throughout his careers. In 1950 he was presented a Lifetime Achievement Award, and in 1954, he was given an award by the American Institute of Graphic Arts (Lindsay). On January 25th, 1962, William H. Bradley passed away at the age of 93 (Lindsay).
Will Bradley's legacy is his introduction of Art Nouveau style to the United States, as well as incorporating Japanese style into Western poster and book design. The poster titled The Twins, is considered the first American Art Nouveau poster, due to the use of flat patterns and curvilinear figures (Wong). Many of his projects feature an influence of William Morris and Aubrey Beardsley. This can be seen in Bradley's use of elegant typography and ornamental borders, which were common features of the Arts and Crafts movement (Knight). The influences of Aubrey Beardsley can be seen in the combination of curves and flatness, areas of light and dark (Will H.Bradley), as well the use of bold blacks and intricate ornamentation (Wong).  These influences are featured prominently in the book design of Fringalla, and in Bradley's own magazine Bradley: His Book (Bradley) (Flinchum). Influenced by Japanese wood-block prints, Bradley incorporated principles of Japanese art into his work. Namely, he experimented with lines and shapes (Knight), and arranged his work so that images were created from just a few colored shapes (Wong). He was also able to create beautiful and intricate images while keeping everything two-dimensional and employing the principle of asymmetry in the design as a whole (Wong).
Inspired by his work in the printing press, William Bradley designed many different typefaces. These include the Downing, Bradley Series, Bradley Outline and Bradley Initials. These typefaces were featured in many of Bradley's magazine cover designs, most of which appeared on the cover of Inland magazine (Lindsay). The style of these typefaces was influenced by medieval typeface design and the Arts and Crafts movement (Will H. Bradley).

Lindsay, Martin S. The Bradley Series. Website: WillBradley.com. Accessed 06 Apr 2019, https://willbradley.com/chronology/.
William Bradley's life showcases a dedication to expanding the world of graphic design, and the constant need to evolve and polish one's style. Bradley also demonstrated the fact that a designer can wear many different hats and be involved in a wide variety of designer work. These are lessons that young graphic designers should learn, especially as they graduate and start their careers. As Bradley demonstrated, there's nothing wrong with trying out different projects and finding inspiration in styles from other parts of the world, and this chosen style can change and develop throughout a designer's career.
Bibliography:
Bradley, Will H., Hornung, Clarence P.. Will Bradley: His Graphic Art: a Collection of His Posters, Illustrations, Typographic Designs & Decorations. Dover Publications, 1974.
Flinchum, Russell A. "Book Design, Aubrey Beardsley& Art Nouveau." Graphic Design History Lecture. NC State University, Raleigh. 21 August 2014. Lecture.
Knight, Melinda. "Little Magazines and the Emergence of Modernism in the" Fin de Siècle"." American Periodicals 6 (1996): 29-45.
Lindsay, Martin S. Will H. Bradley: A Chronology. Website: WillBradley.com. Accessed 06 Apr 2019, https://willbradley.com/chronology/.
"Will H. Bradley: Early Master of Graphic Design." Publishers' Bindings Online, Univeristy of Alabama, 2005. Accessed 06 Apr, 2019. bindings.lib.ua.edu/gallery/willbradley.html.
Wong, Roberta. "Will Bradley and the Poster." The Metropolitan Museum of Art Bulletin, vol. 30, no. 6, 1972, pp. 294–299. JSTOR, www.jstor.org/stable/3258973.