Terry Irwin – Carnegie Mellon University Curriculum
Perhaps the most important project Terry Irwin has led, the reworking of the Carnegie Mellon curriculum is not something traditionally ascribed to the field of design. However, that is kind of the point of the project: to expand the meaning of design. As mentioned in her biography, Terry Irwin had developed a deep reverence for other disciplines and the importance of collaboration by the time she became the Head of the School of Design at Carnegie Mellon. Realizing that we are in a period of change, Irwin met with faculty to ensure that their programs reflect that. After multiple review sessions, they concluded they were in desperate need of reform. The faculty took to the project as they would teach their students too: by sitting down and brainstorming solutions.
When considering what needed to change, Terry Irwin stressed the importance of transdisciplinary work that would equate to well-rounded thinking and designing. She spoke of how the "built" world, or the one designers create, is embedded in the social and natural world. "For this reason, we say that we are 'a school of design for interactions among people, the things they make and use, and the environment," Terry explained in her article about the redesigning of the curriculum. Looking at the actual degree plans, it's clear to see how this was implemented. While there is a lot of freedom for students to customize their degree paths, they are still strongly encouraged to engage in classes that expand their worldly knowledge in order to be better equipped to deal with the "wicked problems" of the world.
In addition to tweaking the existing design programs, Carnegie Mellon also introduced a program for Transitional Design. It's a relatively new field of design, and Terry Irwin has been involved with it since its beginning. With a strong focus in sustainable design, a big part of the program is encouraging designers to challenge old ways of thought and to embrace theories of change. So while this work isn't an easily displayed product, Irwin's work on the Carnegie Mellon University Design curricula is definitely one of her most influential projects.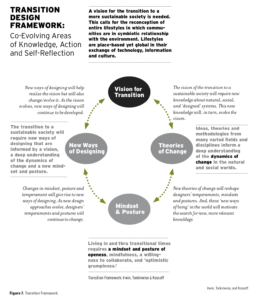 Bibliography
"Bachelor of Design." School of Design, Carnegie Mellon University, Carnegie Mellon Design, 1 May 2014, design.cmu.edu/content/bachelor-design.
Irwin, Terry. "Redesigning a Design Program: How Carnegie Mellon University is Developing a Design Curricula for the 21st Century." Solutions, Jan.-Feb. 2015, pp. 99-100.