Goldfinger
Robert Brownjohn's most well known work is his 1964 title sequence for the second James Bond movie Goldfinger. It took some inspiration from his first Bond movie title sequence, which filmed stills being projected onto a belly dancer.  The antidote is that when Brownjohn pitched the idea, he did so with himself, pushing his chest together to form clevage with a projector shining onto him and saying "It'll be like this, but with a pretty girl." Brownjohn's next title sequence for Goldfinger features a model, painted gold, with clips from the film being projected onto her body. Some scenes exemplify Brownjohn's "risque" humor, like the one where Bond is projected swinging a golfball into the models cleavage. Other's use her form to create dimension, like a scene where her legs look like a secondary landscape where Bond ducks down under one leg to appear as if he is hiding from a helicopter. The neon, explosions, and firey scenes towards the end are very much reminiscent of pop art popular during this period of time. It was also around the time when there was a change towards more sexually liberal attitudes. It is still surprising that something as sexually charged as this was approved as PG and it actually was the first title sequence to have to get clearance ever. This title sequence is also important because it has direct influence from the Bauhaus. When Laszlo Moholy-Nagy taught there he produced a film: Light Play: Black-White-Gray. The film was similar to Brownjohn's in that it was filming moving projections onto a still art piece.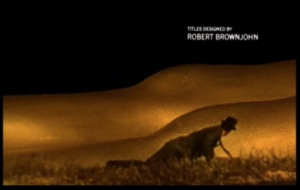 Bibliography:
"Goldfinger Film Titles 1964." Robert Brownjohn, robertbrownjohn.com/featured-work/goldfinger/.
Delaney, Sam. "Bond's Unsung Heroes: Robert Brownjohn, Designer." The Telegraph, Telegraph Media Group, 21 May 2009, www.telegraph.co.uk/culture/film/jamesbond/5296930/Bonds-unsung-heroes-Robert-Brownjohn-designer.html.