Teaching Character
The New York Times commissioned Stephen Doyle and his company for a group of temporary installations called "The Character Test"  in two different schools in September 2011. The schools, one a field stem in the Bronx called Riverdale Country School, and the other, Kipp Infinity middle school in New York Harlem, were trying to teach their students about character traits outside of their normal standardized testing world. Words like grit, zest, curiosity, optimism, create, gratitude and art, are a handful of words they created by taping them onto the physical surroundings of the school. They taped them so that in one perspective, the word is easily legible, and "normal." However, move even slightly off, and the oversized word becomes skewed, distorted, or even illegible. They achieved this effect by pointing a video camera in a stationary location and constantly checking for accuracy of the letters from that point of view. Unconventional projects like this tape installation is what Doyle lives for. He loves "when the words come off the page and participate with us." (3) The words are also full of deeper meaning and motivation than they may at first seem. When you go down the halls and see all the different words one-by-one, it becomes apparent how these words relate, "the work we do is about uncovering the power in the meaning of the words." (3) These words are not meant solely for visual entertainment and beauty, but to hopefully inspire a spark in these young students. This concept of deeper meaning is a key display in much of Doyle's work.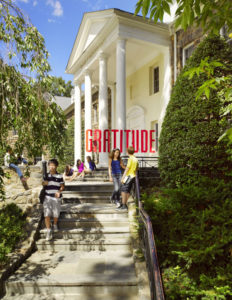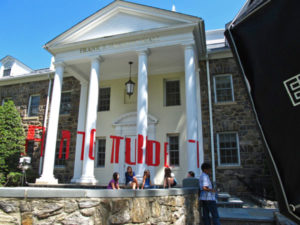 The word "Gratitude" at original angle and at a skewed angle.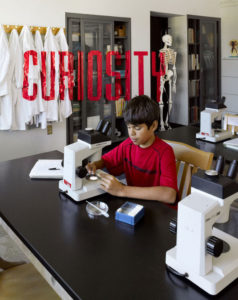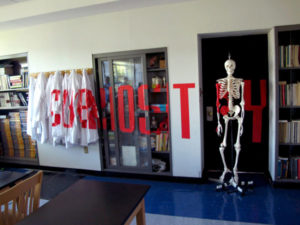 The word "Curiosity" at original angle, and at a skewed angle. 
Bibliography:
Photos: (All named "Tape Installation")
Stephen Wilkes for the New York Times. (n.d.). Tape Installation [Photograph]. New York.
Websites:
Petite, Z. (2017, March 26). "Think With Your Hands." The Words and Work of Stephen Doyle. Retrieved April 7, 2019, from https://www.printmag.com/featured/words-and-work-of-stephen-doyle/

Tough, P. (2011, September 14). What if the Secret to Success Is Failure? Retrieved April 7, 2019, from https://www.nytimes.com/2011/09/18/magazine/what-if-the-secret-to-success-is-failure.html

 Type@Cooper. (2019, April 07). Typographics: Off the Page and into the World with Stephen Doyle. Retrieved April 7, 2019, from https://vimeo.com/189439026