The Public Theater- Paula Scher
In 1994, Paula Scher began working with the Public Theater to update the identity, graphic style, and promotional materials. Scher had recently joined Pentagram as a partner and the Public theater was one of her earlier projects that set the tone of success that was to follow. The Public Theater wanted to reach new audiences and provide unique, innovative shows that appealed to a wider range of viewers. Theater was often seen as stuffy or unapproachable to average or lower income families. There was also a cultural divide as the shows and performances available often were not representative of non-European cultures. The Public Theater wanted to close this divide and provide material that would appeal to all demographics of people.
Scher represented this mission by using large, blocky wood type letters to create a modern street-style feel. She used a minimal but bold color pallet composed of the primary colors and black. The text was arranged in abstract geometric formations with the varying font size and thickness creating a hierarchy of the information. Scher put emphasis on the Public Theater's name, specifically the word "public" to suggest that it was affordable and convenient for the average person. Posters often included a central figure from the show in an action pose to draw attention to the information. By utilizing these elements, Scher created "a graphic language that reflects street typography in its extremely active, unconventional and almost graffiti-like juxtaposition" (2). The Public Theater project was influential in the design world because it reshaped the way cultural institutions and theaters approached marketing. Advertisements were directed at larger crowds and more locations. The aesthetic style of the Public Theater was groundbreaking in its rejection of Swiss modernism and new application of energy and dynamic design.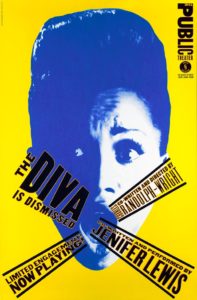 Bibliography
"Paula Scher. The Public Theater, 95-96 Season. 1995 | MoMA."

The Museum of Modern Art

, Moma, 2019,

www.moma.org/collection/works/8840

.

"The Public Theater – Story."

Pentagram

,

www.pentagram.com/work/the-public-theater/story

.
Images
https://pentagram-production.imgix.net/wp/592c9dae20536/ps-public-full-216.jpg?w=640&fm=jpg&q=70&auto=format
https://pentagram-production.imgix.net/wp/592c9dac0ee0a/ps-public-full-212.jpg?w=640&fm=jpg&q=70&auto=format