Stanley Mouse
Stanley Mouse created designs for many top tier bands throughout his time as a designer but one of his most famous is a The Grateful Dead poster he made in 1966. It was one of his collaboration projects with Alton Kelley, a fellow designer Mouse worked with for 15 years. The poster was one of their earlier projects worked on together. It was done for a show the band was playing in the Avalon Ballroom, a concert venue in San Francisco that was used during the heart of the counterculture movement. The design was inspired by a page in a book Mouse and Kelley found in the San Fransisco Library. The duo routinely visited the library to browse books and magazines for design inspiration. For this particular design, the two designers found a page in the poem book, "The Rubaiyat of Omar Khayyam". The duo knew that the illustration represented The Grateful Dead perfectly so they cut the page out of the book and took it back to their studio to start their design.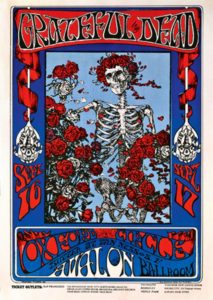 The final poster has a skeleton standing in the middle of the poster surrounded and covered with roses. This image is accompanied by psychedelic lettering that tells the viewer that The Grateful Dead were playing in the Avalon Ballroom on September 16th and 17th. The entire poster is meshed together by the limited color pallet of blue, red, white and black. The image does a perfect job on illustrating the name of the band into an observable figure. A skeleton surrounded by roses represents the same beautiful contrast between death and beauty that the band's name illustrates. The bold colors, lettering, and illustration could make someone stop in their track to look, exactly Mouse's goal. Once one begins to look closely, the complexity of the design is made clear in the extravagant detail. Only after soaking in the entire poster one will start to notice its purpose.
After analyzing this piece of work you can start to understand the amount of thought and detail that was required in its creation. No wonder this poster is considered one of Stanley Mouses bests, it successfully grabs the viewer's attention, informs them, and entertains them all while illustrating a beautiful metaphor.
Citations:
Edgers, G. (2015, May 22). Meet the artist who invented the Grateful Dead's skull and roses logo. Retrieved from https://www.washingtonpost.com/entertainment/music/meet-the-artist-who-invented-the-grateful-deads-skull-and-roses-logo/2015/05/22/833d2806-fd73-11e4-8b6c-0dcce21e223d_story.html?noredirect=on&utm_term=.30b5c8ee22d9
https://www.pinterest.com/pin/365987907193109549/?lp=true