Sheila Levrant de Bretteville
Sheila Levrant de Bretteville is an American graphic design, feminist, educator, and artist currently living in Hamden, Connecticut. I was initially drawn to research her based on the range of her popular works and accomplishments, most of which involved standing up for women's rights. The fact that de Bretteville was born in November of 1940, in Brooklyn, New York, makes this aspect of her career is even more remarkable, because in the time throughout her education, her teaching, and her professional career, she was promoting and advocating for women during pivotal points in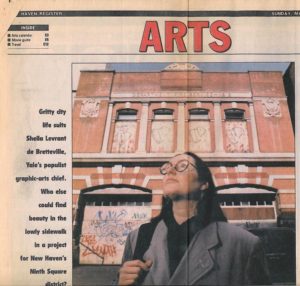 the timeline of the Women's Rights Movement. She also had extensive amounts of work that are permanent public displays, which tells us that de Bretteville was keen on making a lasting impact on the world and the society that she was a part of.
Growing up in Brooklyn, de Bretteville went to Abraham Lincoln High School, graduating in 1958. She then received her Bachelor of Arts in Art History from Barnard College and later attended Yale University School of Art for her Masters of Fine Arts in Graphic Design, hoping to quench her thirst for communication that connected the viewers and stimulated conversations. De Bretteville also received honorary degrees from Crafts and
Moore College of Art and Design and the California College of Arts. After her graduate degree, de Bretteville moved across the country from the east coast to Los Angeles, a city full of graphics and color and excitement. It goes without saying that this relocation created a major impact in her career; in 1971, de Bretteville founded and designed the first women's design program at California Institute of the Arts. Just two years later, she founded The Woman's Building as well as the Women's Graphic Center. The Woman's Building was a center that was made by a group, for a group, although in an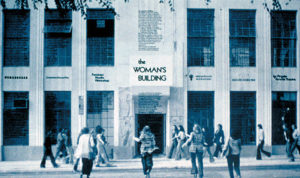 interview by the Center for the Study of Political Graphics in 2012, de Bretteville explained that she would never call it a collaborative or collective project. Her goal was to "create a location for participation… where people feel at comfort and feel accepted and can, therefore, be the best of who they are." Such a monumental progression in the female community very likely invoked confidence and comfort to many women in the area as a safe space for them to speak of their fears and their dreams in a society that was not yet as accepting of women as we are today.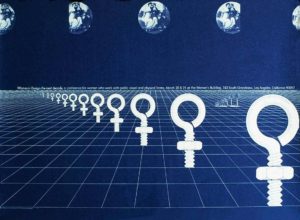 De Bretteville created a memorable symbol for female empowerment that holds much more depth and meaning than the repetitive motif of a fist in the air. Her iconic symbol stemmed originally from a necklace she made with an eyebolt on a chain, "Strength without the fist," which abstractly shows the female Venus symbol while depicting females in a powerful, determined light. Members of the Feminist Studio Workshop adopted it as a symbol for women united for justice, sharing necklaces among their communities to instill unity and empowerment to the oppressed. The motif was repeated in a poster for the Woman's Building in correlation to the Feminist Studio Workshop in 1972, the first independent feminist art school in the United States.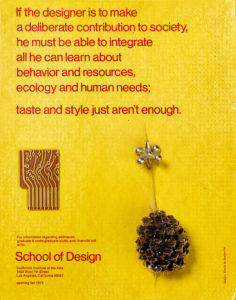 Not only was de Bretteville concerned with motivated and encouraging female community and strength, but she was also a firm advocate for design with purpose; taste and appeal are not all that makes a design adequate. There must be intent, a motivation, an objective, something with deeper meaning. Something that involves taking some time to dissect and inspect, and be able to grow from it. To create bonds and conversations with the world and the people around you, to understand how the design helps to connect things together. De Bretteville's impact spans not only the female community and the female designer community but can influence anyone. Anyone, no matter age or gender, can learn from her distinct skills to make messages from unseen symbols that still create an effective story, and even if the interpreters fail to come to the same conclusion, their conflict and conversation allow each party to prove a different point and still be following the intent the de Bretteville set out from the beginning. She says that "[she] didn't want to be the center" of her designs, but rather allow the time and place and people that experience the design have just as much an influence on the work as she did herself.
When she was not founding communities and centers and programs or teaching programs and running departments, de Bretteville participated in the design of many public installations throughout the east and west coasts. In almost every communal form of art, something she considered vital to the Feminist Art Movement, her goal was to tell the story of people in a new light, in a new way, to morph her work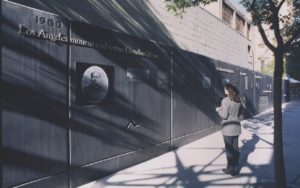 into a part of the spaces like they were always meant to be there, and to create a statement without taking away from the spaces themselves. One of her more well-known pieces displays a timeline of Biddy Mason: A Time and Place life on the road where she used to live, to tell the story of a strong woman, a former slave who saved herself from a life of pain. And similarly, a piece called "Path of Stars" that commemorates the lives of local citizens with granite situated in the sidewalk. Both pieces depict and draw attention to the amazing influence a seemingly regular person can have, how each of us make an impact on the world we interact with whether you like it or not.
Aside from these projects, Sheila de Bretteville humbly lead departments of famous art schools, won countless awards, and created many more significant designs (printed, cover art, newspapers, building, stairs, subways) that still mark the neighborhoods of cities in the United States. All in the hope that people would notice and take some time; time to learn more about someone they don't know, time to connect to a story, time to accept something unfamiliar, or time to process a complicated concept. De Bretteville isn't just a designer but a motivational public figure that has shaped the country in many ways.
"On both coasts of the United States, de Bretteville has used typography and environmental design to enhance communities. Her aesthetically rich, metaphoric projects are meaningful to a diverse range of local populations."

-Ellen Lupton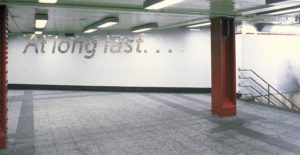 Bibliography
Astasio, Juan. "SheilaStudio." SheilaStudio, SheilaStudio, 2018, sheilastudio.us/.
Biography by AIGA. "2004 AIGA Medalist: Sheila Levrant De Bretteville." AIGA, 2019, www.aiga.org/medalist-sheilalevrantdebretteville.
Berenson, Izzy, and Sarah Honeth. "Clearing the Haze: Prologue to Postmodern Graphic Design Education through Sheila De Bretteville." Walker Art Center, 26 Apr. 2016, walkerart.org/magazine/clearing-the-haze-prologue-to-postmodern-graphic-design-education-through-sheila-de-bretteville-2.
Center for the Study of Political Graphics CSPG, director. Decade of Dissent – Sheila Levrant De Bretteville. YouTube, YouTube, 24 Mar. 2012, www.youtube.com/watch?v=UNDa2RD0aS0.
http://sheilastudio.us
http://uscfa102guirguis.blogspot.com/2015/04/design-that-makes-difference-sheila.html
https://walkerart.org/magazine/clearing-the-haze-prologue-to-postmodern-graphic-design-education-through-sheila-de-bretteville-2
Brogan Williams