Gert Dumbar
Have you Gert of Dumbar?
Gert Dumbar is a veritable icon of graphic design, whose work in iconic graphic designs are still used today. He studied painting and graphic design at the Royal Academy of Fine Arts in Hague, later attending the Royall College of Art in London where he furthered his studies in graphic design. His studio, which he established in 1977, named Studio Dumbar, works as a design firm primarily focusing on "creating many iconic corporate identity systems for clients such as the Dutch Postal and Telecom Services, Dutch Railways, Dutch Police, the Danish Post and Czech Telecom." According to ideasondesign.net. His design firm still makes influential works today, some statements from the website talk about their design philosophy, "We create meaningful brands. From strategy to reality. We have an innate drive to make outstanding work. Pure. Simple. Powerful." "We create brands that are seen and appreciated. They stand out in the cluttered market-landscape." His studio has won several awards for design and has garnering both national and international acclaim. He now works as a professor at the Royal Academy of Fine Arts in the Hague. He's also lectured at several universities, written a few books on design, and is a member of AGI. His focus on design that was bold, nonconventional, and highly functional on multiple layers helps his work as well as his studios work stand out from a more sterile and marketing driven design philosophy that they rail against. As far as I can tell, there isn't much information about his early life, but his design career was certainly very noteworthy. His philosophy on design was more focused on spontaneity and innovation rather than marketing or politics.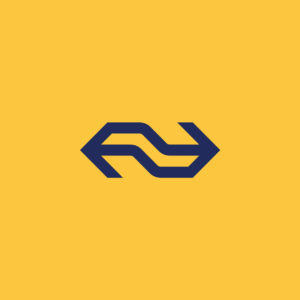 The main idea of his design work is in creating unique, bold, and innovative brand identities. The first example of his work that comes up the most, as it is arguably his most iconic piece, that's still being used today. I'm of course talking about his logo design for the Dutch Railways. It was a part of a massively ambitious revitalization effort by the company during the sixties. It was around this time that railways and other public transportation systems began to decline with the advent of more publicly accessible and more affordable cars, as well as the development of new roads. The campaign used by the Dutch railways would introduce "new trains, improved routes and intercity services." According to studiodumbar.com. Along with all this, they wanted a new image to reflect their shift towards a new, more modern identity and renew interest in the Dutch railway system. "The design of the iconic NS symbol is deceptively simple: the arrows represent the outgoing and return journeys, while the two central lines represent the track." (studiodumbar.com) The design is instantly recognizable and is used throughout almost every aspect of the Dutch railways, from train cars, to signs, tickets, uniforms, stations, and maps; it's truly an iconic design that has stood the test of time and is just as effective now as when it was introduced, if not more so.

Another equally iconic design by Dumbar is that of the then newly unified, Dutch National Police. According to the Studio Dumbar website, "This landmark project began when the merger of the State and Municipal police, two previously autonomous organizations, created one unified national police force. A new identity was required to signal this change to the Dutch public." At the time, this merger wasn't seen in the best of lights, many would've considered it to be highly unpopular. Which Dumbar would address by making a design that would focus more on character and clarity, while avoiding political criticism and overused design trends. With the final product being the red and blue stripes, it can safely be said that he was successful at avoid the tired old trends that most police design identities follow. It speaks to his style of making bold, unique designs that are easily identifiable in the sea of same old same old. According to their site, the striped design has won several awards and was voluntarily adopted by all of Netherland's emergency services. They can be seen on police cruisers, boats, emergency vehicles, helicopters, and even motorcycles. This design, commissioned in 1992, was so successful and long lasting that, it was reported that "the public thought the police had increased their presence on the streets, when in actual fact the number of cars had decreased due to budget cuts." According to the studio dumbar website. And even though, internally, many were against the merger initially, the design had provided a sense of unity and pride for those within the force.
Before seeing Gert Dumbar's work, I didn't think simplistic designs could be so bold, innovative, or powerful. And now that I've seen things like the dutch railways logo or the National police stripes, I feel like I have a better grasp of what graphic design should be. When it comes to Identity design, I can't think of a possibly better designer to study than Dumbar. And looking at the legacy of his own studio, still in operation, one can plainly see that they are still pushing the boundaries of what design, and further, graphic design can do. In Dutch, there is more than one word for design, "Vormgeving [which] is more to make things look nice…[and] ontwerpe [which] means engineering." (gert dumbar, Clowns, Chairs and Dutch Foreign Affairs interview). The first talks about the aesthetic value of a design whereas the latter addresses the functional value of a design, more or less. And I think what he focuses on is creating a design that has an aesthetic that is bold and innovative, while being extremely functional as a flexible and yet highly identifiable design. And I truly agree with this, if one considers the classic, supposed duality in design of Form versus Function, if one persists on focusing on just one of these aspects, then the design will suffer in one way or another, but if we try to make them both work in unison then you can achieve a highly effective result. He also brings up this concept of trying to avoid clichés or overdone trends, being unique and innovative. While looking at some of his work in a vacuum, one might not think that simplistic shapes make for ground breaking design, but I think that the true innovation is in the context in which these designs are used. The railway logo represents the arriving and departing trains in the arrows and the pare of parallel lines represent the train tracks. Its clever and iconic on so many levels, that it almost seems impossible to be intentional. And the Police stripes being so completely simple and yet so immediately recognizable and flexible, being applicable to any manner of vehicle, it just bogles the mind. But it makes so much sense, the railway logo is so different from anything I've seen or thought of with railways, and the police stripes stand out so much from the typical police cruisers and civilian vehicles that it just creates a far more noticeable presence. I really do admire this person's work and feel that my words alone can't do him justice.
Bibliography:
http://thatnewdesignsmell.net/gert-dunbar-defines-design/
https://studiodumbar.com/about
http://ideasondesign.net/speakers/speakers/gert-dumbar/
http://thatnewdesignsmell.net/gert-dunbar-defines-design/
https://www.google.com/url?sa=i&rct=j&q=&esrc=s&source=images&cd=&cad=rja&uact=8&ved=2ahUKEwiqwoTcnL_hAhUCheAKHblkDYUQjRx6BAgBEAU&url=https%3A%2F%2Feuropeandesign.org%2Fgert-dumbar-2%2F&psig=AOvVaw0agcO_z8uJGJFUR9YVE6IE&ust=1554769167712319