Peter Bil'ak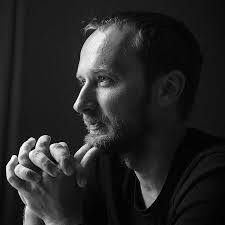 Peter Bil'ak was born in Czechoslovakia in 1973, now in his mid 40's lives in the Netherlands. Peter Studied at the Academy of Fine Arts and Design in Bratislava, along with the Atelier National de Creation Typographique in Paris, and at Jan van Eyck Akademie in Maastricht. His first major typeface project was published by FontShop in 1998 and was named FF Eureka. Peter has always been interested in text as he writes for various magazines, published books, and is a publisher and editor of the magazine 'Works that Work.' Though very few people do not think of the letters beings formed and shaped, this is something he finds most interesting. Outside of design, Bil'ak is passionate about his editor position of 'Works that Work,' Researching articles, and working with established photographers, writers, and researchers. He also works with choreographer Lukas Timulak to create new ideas for ballet performances.
In 1999, Bil'ak, started Typotheque type foundry. Typotheque, according to their website, seeks to explore the idea of 'contemporaneity', creating quality typefaces that reflect our time and serve its needs. Their focus on extended language support had helped to create typefaces that support languages based on Latin, Greek, Cyrillic, Arabic, Armenian, and Devanagari scripts. Along with its focus on extended language support, Typotheque focuses on technological innovation. In 2009 they were the first commercial type foundry to license the entirety of its type library for the web. The first font released from Typotheque was Fedra Sans in 2001. In 2003 he released the Fedra Serif and continued to develop the family with a range of display fonts. The family currently extends to more than 100 fonts.
in 2000, he co-founded 'Dot Dot Dot,' an art and design journal. Dot dot dot is a magazine originally centered around graphic design, created by Bil'ak and Stuart Bailey. The magazine later widened its scope to journalism on subjects which affect how the world is viewed and how design is thought about and made. Its main pull from readers is its witty writing about the visual culture along with imaginative design and its past, present, & future.  Dot dot dot has since become a jocoserious journal with stories covering music, language, art design, literature, architecture, etc.
In 2008 Bil'ak released the History typeface system, which examined layering across time and cultures. History originally was proposed as a typeface system that, when selected, would randomly choose a font from a predefined database of fonts. He later decided to work more intensively on layering letterforms that could be recombined. Though because of the limitless amount of fonts that could be combined together, he decided to limit the number of styles to 21 as it reflected the 21 centuries of typographic history used within the project. History includes 21 layers and 21 independent typefaces that share widths, allowing them to be recombined. History was delivered as a set of OpenType fonts while also providing an application called History Remixer. History Remixer processed single text input through an interface, allowing the user to work with the layers. The History type system took longer to develop than any other project Bil'ak worked on. This project shows Bil'ak's creativity within his work in the design world and shows how you can do more than create fonts to have a large impact on the design world.
in 2012 he started a magazine about unexpected creativity called, Works That Work. Works That Work, an international magazine, posted essays and stories on the impact of creativity in everyday life. The magazine was created by Bil'ak to challenge the perception that design is only used to make objects more expensive. With the objective to challenge this perception, the magazine published stories about design that related more to the mass public and showed how certain design can lead to the betterment of life. A unique aspect of the magazine is that it did not treat its viewers as a target market to be sold to but more so as partners who helped make the magazine possible. The magazines' distribution was done so untraditionally and used 'Social Distribution,' having the magazine distributed to friends and neighbors instead of the masses. This form of distribution is now studied by other magazines and was reported on in major international publications. The magazine received awards and press coverage during its run, but more importantly to Bil'ak, it opened up discussion about design and made design something for both designers and non-designers.
in 2015 Bil'ak and Andrej Krátky started a font rental website, Fontstand.com. Fontstand.com is described as music streaming for fonts. Fontstand is an app for Mac that allows users to rent typefaces from designers and foundries of high caliber. Instead of having to buy a complete font family, it allows users to rent specific fonts from the family for the limited time it is needed. The app also allows users to share fonts with friends. When Fontstand was started, they did not have a specific target but just believed the timing was right. They were clearly right, now having more than 33,000 registered users. Fontstand has become immensely useful for graphic design students, as one would imagine. Some classes have even creating assignments that use the application. This project was important for the design world as it made the community much more inclusive and expanded the market by giving users the opportunity to rent or buy the specific fonts they want, instead of the whole font family.
Peter is now teaching Type & Media at the Royal Academy of Arts, continuing his effect on the design world. Though Bil'ak has created typefaces and contributed to the design world in that way, he has contributed to the design community in other, more creative ways: such as his History project and font rental app. His impact on the design world has been felt since the beginning with his creation of Typotheque type foundry. Bil'ak is an innovator and creator as displayed by his life's work within the design world.
(Photo from https://www.typotheque.com/authors/peter_bilak)
References
https://www.designboom.com/design/interview-with-designer-peter-bilak-06-27-2014/
http://www.eyemagazine.com/feature/article/generation-font-rent
https://www.typotheque.com/articles/the_history_of_history
http://www.eyemagazine.com/feature/article/reputations-peter-bilak
https://eyeondesign.aiga.org/fontstand-is-like-affordable-music-streaming-for-fonts-only-the-designers-actually-get-paid/
http://www.peterbilak.com/design/dot_dot_dot
https://www.behance.net/typotheque